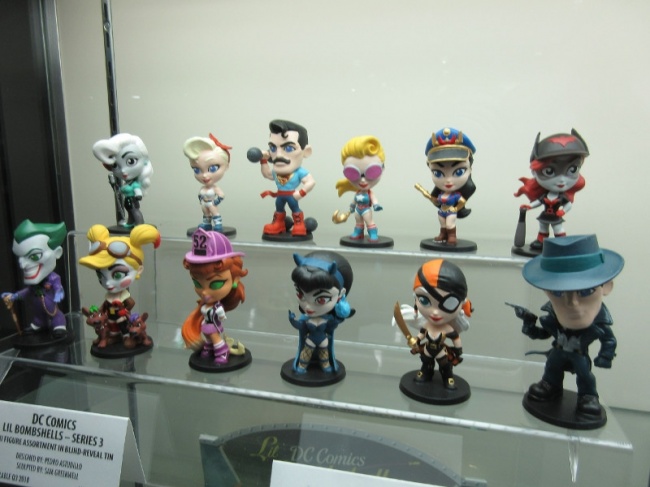 At Toy Fair, Cryptozoic Entertainment was previewing upcoming collectibles for 2018.
The Lil Bombshells Series 3 will include male characters for the first time – Batman, Superman, and Joker. Male characters debuted as part of the Bombshells line last year (see "Preview: New DC Bombshells and Upcoming Collectibles"). Also for the first time, there will be 12 unique figures in the set, instead of 10. There will be two noir variants of Supergirl and Batgirl as chase figures.
There were early prototypes of a new Wonder Woman Vinyl Figure on display. "This is Gal Gadot as Wonder Woman, both from Batman v Superman, Justice League, and Wonder Woman. It's our first foray into accessories as well," Kyle Wlodyga, Cryptozoic Associate Product Manager told ICv2. 'If you look on the back, there's hooks. You can put the shields on there. She'll come with both the Batman v Superman shield, as well as the Wonder Woman shield. She also has the God‑Killer sword, and the Batman v Superman sword. Those are also going to be able to swap out, and customize your display."
Wave Two of the Tikis will include Wonder Woman, Batman, and Superman. The roster will also double from five figures to ten.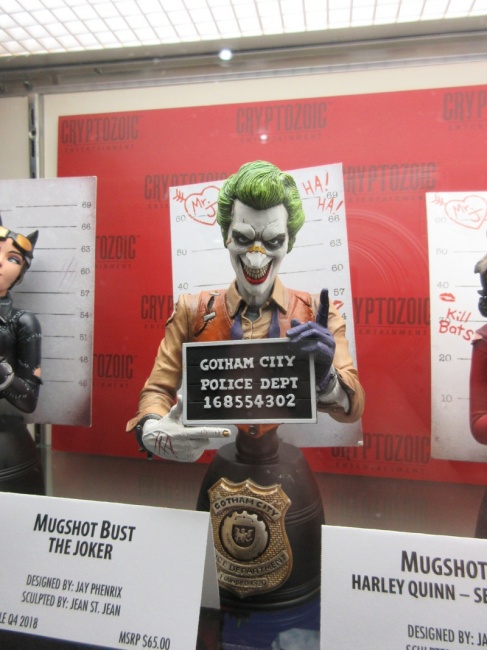 The
DC Joker Mugshot Bust
seen last year also made a return visit. "I know a lot of people have been confused," Wlogyga said. "People have been saying, 'Oh, it's canceled. Oh, no.' It's not canceled. It's on hold. We're waiting for the right time to the release the Joker from the custody of Gotham City police." The bust will be joined by the
DC Catwoman Mugshot Bust.