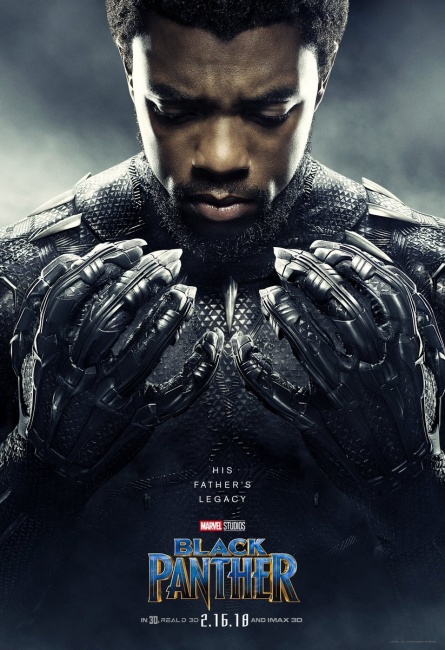 It is now official. Ryan Coogler's
Black Panther
has leapt out of the mega-hit category and become a certified cinematic phenomenon. Soaring over $500 million at the domestic box office in just 17 days of release
, Black Panther
is now the #3 superhero film of all time in the North American market (not adjusted for inflation), trailing only
The Dark Knight
($534 million, which it will soon pass), and
The Avengers
($623.4 million).
Black Panther's
$65.7 million outing was the third biggest third weekend of all time, but it was not enough to boost the total weekend box office over the same frame last year when another Marvel-based film (although one from Fox),
Logan,
debuted with $88.9 million.
Black Panther
, which is only the third MCU film to top the box office in its first three weekends (
The Avengers
, and
Captain America: The Winter Soldier
are the others), is now the tenth biggest domestic release of all time (not adjusted for inflation). Even adjusted for inflation
Black Panthers
$65.7 million third weekend is the fourth biggest of all time behind just
Spider-Man
($71 million adjusted),
Avatar
($79 million adjusted), and
Star Wars: The Force Awakens
($96 million adjusted). As soon as it passes
The Dark Knight
,
Black Panther
will become the highest-grossing solo superhero film ever (not adjusting for inflation). Even when adjusting for inflation it appears likely that
Black Panther
will end up as the fourth biggest superhero film released in North America so far, trailing only
The Avengers, The Dark Knight
, and
Spider-Man
.
Black Panther's
final standing among superhero films isn't likely to be quite as impressive on the global scale where the film has so far earned $396.6 million, $100 million less than it has in North America. Only a huge showing in China, where the film opens next Friday could put
Black Panther
in the top three worldwide superhero hits. To accomplish that feat
Black Panther
would need to raise its global total from the current $897 million to just over $1.2 billion in order to pass
Iron Man 3.
The Jennifer Lawrence-starring, R-rated, adult spy drama
Red Sparrow
debuted in a distant second place with an estimated $17 million
. Red Sparrow
, which cost a reported $69 million to produce and reunited Lawrence with
Hunger Games
director Francis Lawrence, has received mixed notices from the critics (51% positive on review aggregator Rotten Tomatoes), and managed only a so-so "B" CinemaScore from opening weekend audiences, which skewed female (53%) and older (79% over 25). While
Red Sparrow's
debut does demonstrate that Lawrence has the star power to open an adult drama at a time when similar fare is prevalent on all the major streaming services, the film still has a long way to go to reach profitability, and it will likely depend on overseas markets (where it has already earned $43 million) to do so.
Third place went to
Death Wish
, Eli Roth's remake of Michael Winner's 1974 "ripped from the headlines" revenge drama. Bruce Willis stars in the role Charles Bronson made famous as a surgeon-turned-vigilante.
Death Wish
was originally supposed to debut last November, but was postponed because of the horrific Las Vegas mass shooting. Perhaps this $30 million production should have been postponed again in light of events in Parkland, Florida, since it debuted with just $13 million. In contrast to its horrific critical rating of just 15% positive on Rotten Tomatoes,
Death Wish
received a "B+" CinemaScore from opening weekend crowds that were 57% Caucasian, 19% Hispanic, 13% African-American, and 7% Asian.
Weekend Box Office (Studio Estimates): March 2-4, 2018

Film

Weekend Gross

Screens

Avg./Screen

Total Gross

Wk#

1

Black Panther

$65,705,000

4,084

$16,088

$501,105,037

3

2

Red Sparrow

$17,000,000

3,056

$5,563

$17,000,000

1

3

Death Wish

$13,025,000

2,847

$4,575

$13,025,000

1

4

Game Night

$10,710,000

3,502

$3,058

$33,537,766

2

5

Peter Rabbit

$10,000,000

3,607

$2,772

$84,060,376

4

6

Annihilation

$5,650,000

2,112

$2,675

$20,636,742

2

7

Jumanji: Welcome to the Jungle

$4,500,000

2,313

$1,946

$393,201,353

11

8

Fifty Shades Freed

$3,310,000

2,614

$1,266

$95,599,460

4

9

The Greatest Showman

$2,675,000

1,407

$1,901

$164,616,443

11

10

Every Day

$1,560,029

1,669

$935

$5,260,833

2
John Francis Daley's action comedy Game Night dropped just 37% in its sophomore session as it earned $10 million to push its ten-day total to $33.5 million, while Sony's Peter Rabbit, which will face direct competition for its target audience for the first time next weekend from A Wrinkle in Time, posted another solid hold (-21.6%).

Paramount's $40 million science fiction saga Annihilation posted a satisfactory hold (-49%) from its disappointing opening, but like a lot of other films, Annihilation will need to do well overseas to break even.

Jumanji: Welcome to the Jungle earned another $4.5 million in its eleventh week in the top ten as it drove its domestic total to $393.2 million, while the equally leggy (on a smaller scale) Fox musical The Greatest Showman added $2.7 million to bring its earnings to nearly $165 million, and Fifty Shades Freed added $3.3 million to bring its North American total to nearly $100 million ($95.6 million).

While The Greatest Showman was the only film with major Oscar nominations to remain in the top ten during the Oscar telecast weekend, other nominees did get a last minute boost outside the top ten with Guillermo Del Toro's The Shape of Water earning $1.4 million (up 18.6%), Three Billboards bringing in $1.2 million, Call Me By Your Name adding $919K and The Post producing a similar number ($915K). Since the nominations were announced, Steven Spielberg's The Post has earned $34 million, while Del Toro's The Shape of Water has added $26 million.

Next weekend could spell the end of Black Panther's reign as T'Challa's home studio, Disney, will open Ana DuVernay's A Wrinkle in Time in over 3,800 locations, while Nash Edgerton's action comedy Gringo debuts in 2,400 theaters, the genre-melding crime/disaster film The Hurricane Heist bows in 2,500 venues, and the horror film Strangers: Prey at Night, the sequel to the 2008 film The Strangers, unspools on 2,400 screens.