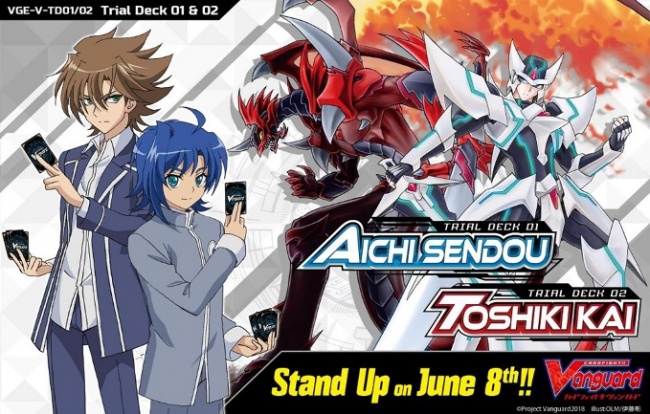 Cardfight!! Vanguard
will be returning to where the game began with a new anime launching in May, new
Trial Decks
and a
Booster
releasing in June, and new organized play formats launching with the new game.
The new
Cardfight!! Vanguard
animated series will follow the 2011 manga story much more closely and will see a return of Aichi Sendou, Toshiki Kai, and the rest of Team Q4. The series will be simulcast with the Japanese broadcast on YouTube and Crunchyroll beginning May 5.
On June 8 (Aichi's birthday!),
Trial Deck 1 – Aichi Sendou
(Royal Paladin) and
Trial Deck 2 – Toshiki Kai
(Kagero) will be released. Each deck contains 50 deck-exclusive cards, including 14 types of cards (inclusive of 4 holo cards), a play guide, playmat, and 3 Gift Markers. There is also a promotion for customers who preorder both trial decks, to receive a pack of PR cards (Gallatin and Nehalem) with alternate artwork.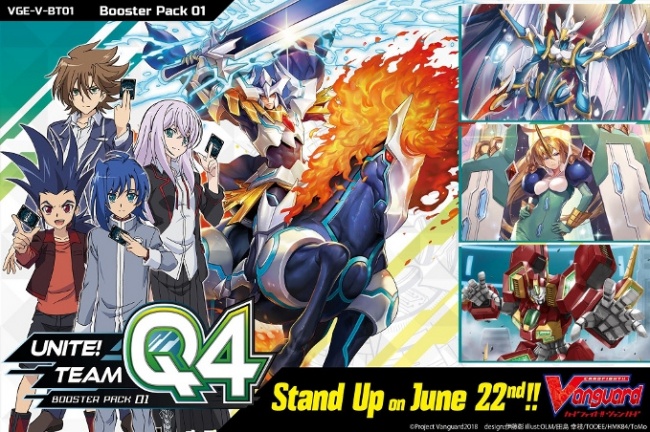 Booster Pack 01 – Unite! Team Q4
will release on June 22. In addition to strengthening the
Aichi Sendou
and
Toshiki Kai Trial Decks,
the booster includes cards to form Oracle Think Tank and Nova Grappler decks as well. The booster also supports the new "Imaginary Gift" system which triggers clan-specific gifts. The set contains 84 types of cards (VR: 4 / RRR: 8 / RR: 12 / R: 17 / C: 43) + SVR: 4 [4 Parallel] + OR: 4 [4 Parallel] + IMR (Image Ride Rare): 1 [Parallel] + SCR (Secret Rare): 4. Each pack contains 7 cards, and each display contains 16 packs. Two cards in every pack will definitely be R or above cards. There is a special campaign for every 4 packs preordered, players get a "special pack," containing 2 out of 8 (4 pairs) of cards including a PR card and a Gift Marker card.
A
Sneak Preview Kit
for the booster release will be available to retailers to host events on Friday Jun 15 – Sunday June 17. Each kit contains 39 booster packs, 8+1 promotional cards, and 2 premium rubber playmats (1 design). Each kit supports up to 8 players.
Marketing for the game will include free demo decks which will be distributed beginning at the end of April, and a Demo Caravan which will visit 200 stores in North America showcasing the game and distributing free decks beginning in June.
These releases are only the beginning. By the end of September, half of the game's clans will have support in the revamped game: Tachikaze, Spike Brothers, and Megacolony in the
Extra Booster
in July; Aqua Force in the
Trial Deck
and
Extra Booster
in August; Granblue and Dimension Police in the
Extra Booster
in August; Shadow Paladin in the Trial Deck and
Booster
in September; and Dark Irregulars, Palemoon, and Murakumo in the September
Booster Pack
.
Organized play is being reorganized to support the revamped game, existing play, and the transition between the two. Three formats for Shop and Official Tournaments will be offered beginning in June. Beginning in June, Tournaments in the G Format will allow only cards released up until April 27, 2018; the G Format is a temporary format that will run through October 2018. Tournaments in the Premium Format, for experienced fighters who prefer a wider selection of cards, will allow all cards regardless of when they were released (Fighter's Rule applied). And Tournaments in the new Standard Format will permit only cards released after April 28, 2018 (except PR cards). All three formats will run in both Official and Shop Tournaments from June through October. Beginning in November only Premium and Standard Formats will remain; the G Format transition period will end.
Bushiroad has also released two other pieces of news with the potential to influence sales: a new 12-expisode anime arc around the Bermuda Triangle clan of mermaid pop idols is planned; and the Japanese version of the
Cardfight!! Vanguard Zero
mobile game will release at the end of 2018, with an English version planned for the first time.