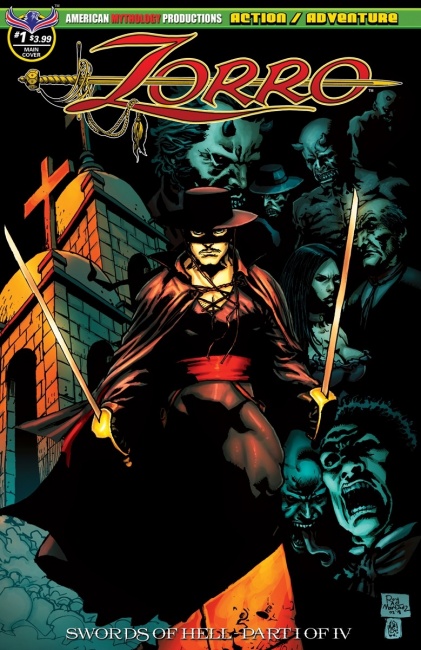 American Mythology announced the return of the swashbuckling hero Zorro to comics, just ahead of the character's 100-year Anniversary.
American Mythology will take Zorro in a new direction, fighting demons, vampires, and other paranormal evil, beginning in Zorro: Swords of Hell, the first miniseries launching on July 25. The series will be written by David Avallone (Bettie Page, Twilight Zone: The Shadow) and illustrated by Roy Allan Martinez (Immortal Iron Fist, House of M). The first issue will feature a main cover by Martinez, with a "Demon Fury" Variant by S. L Gallant, a "Classic Nostalgia" variant by Jon Pinto, a "Visions of Zorro" limited edition variant by Alex Toth (limit 450), and a blank sketch variant.
Wealthy playboy Don Diego de la Vega, or rather his secret alter-ego Zorro, has just defeated the evil Alcalde Quintero. But even as he celebrates, a dark power rises in Alta California, awakened by Quintero's defeat. Now a horde of demonic horsemen have been unleashed, and Zorro is the only one who can stop this demonic blight before Hell is unleashed on Earth.
Zorro, "The Fox" was created by Johnston McCulley in 1919 for the serialized novel The Curse of Capistrano. The story was the first of 65 prose tales, and the romantic fighter has gone on to star in Tv, films, cartoons, and comic books, most recently by Dynamite Entertainment (see "Preview: 'Django / Zorro' TP").
See images of variant covers in the gallery below!