Wizards of the Coast is sending its flagship
Magic: The Gathering
back to the world of Ravnica once again with a trio of sets plus a new package format called "Guild Kits." The first set,
Guilds of Ravnica,
will hit the streets on October 5, followed by the
Guilds of Ravnica Guild Kits
on November 2. The second set,
Ravnica Allegiance,
will emerge in January, followed by
Ravnica Allegiance Guild Kits
in February.
The three-set arc continues the on-going storyline depicted in recent
Magic
releases, concerning the plans of Nicol Bolas and the heroes that are joining forces to resist him. These sets build towards the storyline's climax: the showdown with Bolas.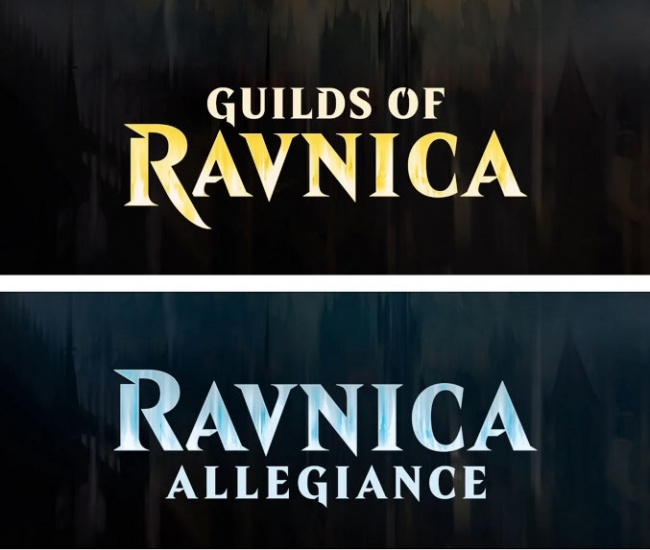 The block begins this October with the 259-card
Guilds of Ravnica
set which will feature the Selesnya, Boros, Golgari, Izzet, and Dimir guilds. Three months later, the 264-card
Ravnica Allegiance
set offers up the Azorius Rakdos, Gruul, Simic, and Orzhov guilds. The name and dates of the third set have not yet been revealed, but this set will focus on the big story events depicted in the set rather than the guilds themselves.
Because of the centrality of guilds to the Ravnica setting, each set will be supported by
Guild Kits
. This new packaging format includes a 60-card deck built using cards themed to a single guild, drawn from all three Ravnica blocks. Additional guild-related accessories will also be included. The specific accessories haven't been revealed, but will include the likes of pins, stickers, and spindown counters. Each set's
Guild Kits
will follow about a month after the set releases.
For this third visit to the guild-dominated world of Ravnica, the artwork will depict a different season than earlier Ravnica blocks, with a more autumnal look and characters clad in costumes appropriate for the season and each guild's different philosophies.
On June 8, Wizards of the Coast will release the
Battlebond
set (see "
'Magic: The Gathering – Battlebond' Unveiled
") and the
Commander Anthology Volume II
(see "
Preview: 'Magic: The Gathering – Commander Anthology Volume II'
").