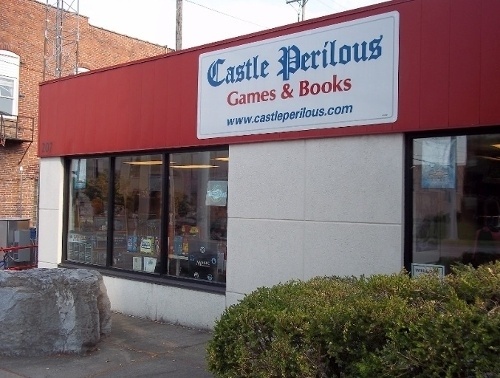 Rolling for Initiative
is a weekly column by Scott Thorne, PhD, owner of Castle Perilous Games & Books in Carbondale, Illinois and instructor in marketing at Southeast Missouri State University. This week, Thorne expects Free Role-Playing Day to be his best sales day of the summer and one of the best sales days of the year.
The 11th annual
Free RPG Day
takes place this coming Saturday, June 16 and, as usual, we expect this to be our best sales day of the summer and one of the best sales days of the year. For those of you not familiar with Free RPG Day, it is an annual event conceived of and facilitated by Impressions Advertising and Marketing. From the Free RPG Day website:
"Established in 2007, Free RPG Day works with participating hobby game retailers and RPG publishers to bring new and exclusive RPG quickstart rules and adventure modules into the hands of gamers.
"Consumers WORLDWIDE will be able to grab brand new material for a variety of RPGs --- no overstock, retail-priced or dead product here. The goal of Free RPG Day is to inspire gamers to play a new RPG, which will in turn, create sales through local game stores."
Similar to Free Comic Book Day, stores pay for (this is a key point of both events that often gets overlooked: retailers pay for the books they give away at both) a selection of RPG items of which, under the terms of the agreement they make with Impressions when signing up for Free RPG Day, they must give away at least one item to anyone who comes into the store. Now the retailer does have the option of how they will give away the item (i.e. the store can choose which item the customer gets or the store can opt to let the customer select, but they have to give away, while quantities last, at least one free item to anyone who asks). Unlike Free Comic Book Day however, the selection is fixed. Participating stores get a fixed selection of items depending on which kit is ordered.
Since the purpose of Free RPG Day is to expose players to new RPGs that they might not otherwise hear about, I am always bemused by the offerings publishers choose to put into the kit. For the first couple of years, WOTC included a
Dungeons & Dragons
adventure in the kit, which was always the first item to run out. Since then, it has been a tossup, at least here, between the
Pathfinder
item or
Lamentations of the Flame Princess
offering. The latter, by the way, is an X-Rated item, matching the tone of the RPG, which we keep behind the counter with a note on the table telling those customers interested in the book that they must request a copy. Incidentally, the Lamentations offering, for the past couple of years, has proved the highest quality item in terms of production value, as it comes hardbound, whilst all of the other selections are paperbound and saddlestitched. A couple of other books that caught my attention are the
Kids on Bikes Quick Start RPG
(think
Stranger Things
) from Renegade Game Studios and the relaunch of
Atlas Games' Unknown Armies
, a personal favorite.
Three things about Free RPG Day always bemuse me:
Publishers only putting a few copies of their item in the kit. The Bronze level only requires publishers to supply three items, meaning not much chance of them getting their offering into the hands of potential customers.
Publishers not including quick start rules for their game. With the exception of a publisher like Goodman Games, which included a Fifth Edition fantasy adventure which is designed for the world's most popular RPG, publishers are trying to attract attention to their system. Including a stripped-down version of the rules would help with that, but only about half a dozen of the offerings do so.
Guessing which RPGs will be around next year. This year's selections all come from pretty well-established publishers but in past years, I have always found a couple of offerings from companies I never heard of before and never see anything from again.
Happy Free RPG Day and may your dice roll well, unless you are trying for a TPK, of course.

The opinions expressed in this column are solely those of the writer, and do not necessarily reflect the views of the editorial staff of ICv2.com.