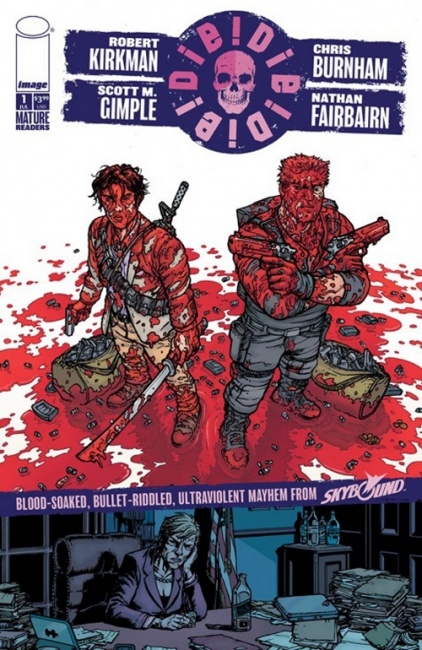 Image Comics/Skybound Entertainment slipped a little something extra in comic retailers' shipments from Diamond Comic Distributors this week, an unsolicited #1 for Robert Kirkman's new series
Die! Die! Die!
The series is written by Kirkman, Scott M. Gimple, and drawn by Chris Burnham. There was no preorder, no publicity, and no warning. The comic was included in their weekly order, carefully apportioned to match up with each store's
Oblivion Song
launch orders. The only acknowledgement was a letter printed on the back of the promotional poster for
Die! Die! Die!
addressed to retailers from Kirkman, explaining the stealth launch of the series. Kirkman was wistfully remembering the magic of going into comic shops in the early 90s, where there was no marketing juggernaut telling fans what was coming out months in advance. Each trip to the comic store was a journey of discovery and surprise. "I want to bring that excitement back," he wrote. "I want the comic shop, the place you're probably standing in, to be a place of discovery again! I want it to be a place where a customer can come in and find out about something new and exciting!"
Die! Die! Die!
is an action story about a secret cabal in the U.S. government that quietly influences world politics through discreet assassinations. For the good of the humanity, of course. They might involve a certain amount of carnage and mayhem.