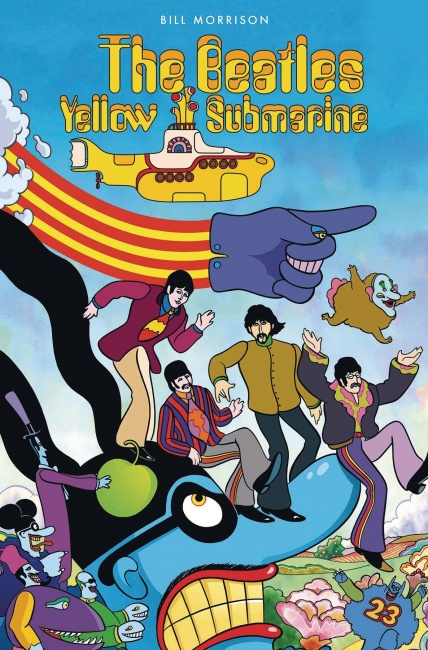 The Beatles – Yellow Submarine HC
Publisher: Titan Comics
Release Date: August 29, 2018
Price: $29.99
Creator: Bill Morrison, with inkers Andrew Pepoy and Tone Rodriguez, colorist Nathan Kane
Format: 112 pgs., 6-5/8" x 10", Full-Color, Hardcover
ISBN: 978-1785-8394-3
Age Rating: N/A
ICv2 Rating: 4.5 Stars out of 5
Bill Morrison, who is now the editor of
Mad
magazine, has done a great job of adapting the trippiest animated film of the 60s into a graphic novel. In fact, that may be its only weakness, because the original film was aimed at an audience that was a bit… um… chemically enhanced while watching. Some of the Blue Meanie sequences may come across to a modern un-intoxicated audience as just weird. That's okay. They really are that strange. It's just that if you're stoned or hallucinating, you probably won't think about it. Sober, it's crazy enough to make your head spin, which is perhaps safer and often more legal.
In any case, there are a few abridgements, but nothing that harms the story or reduces its zaniness.
Also, for a very British creation, and from a British publishing company, it's somewhat surprising to find an American cast of creators. Still, their reproduction of the film showed a great amount of care and affection for the original, just hitting its 50th Anniversary. The submarine itself, along with the variety of odd creatures who inhabit the film, come across well, even the ones who don't make much sense.
Sadly, just like in the original film, Paul doesn't look very much like Paul, even though the others are fairly faithful reproductions of their Beatle selves from the Sgt. Pepper period. The jokes based on Beatles song lyrics are in place, as are the weird sight gags in scenes like the one taking place at the Sea of Holes.
Fans of the movie will like it. Fans of Beatles music will also probably like it. Anyone who has missed the last five decades of popular culture will be utterly baffled, but I think the four lads in the story would find that to be an okay reaction.
Aimed at teens and adults familiar with Beatles music, which is almost everyone.
--
Nick Smith: Library Technician, Community Services, for the Pasadena Public Library in California.