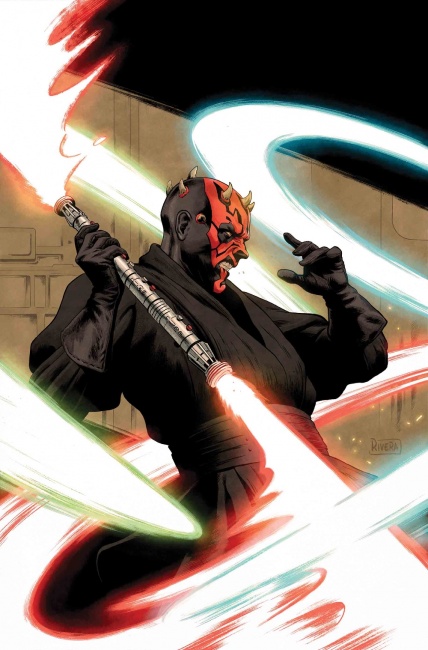 Starting in December, a new event series will span the entire Star Wars saga.
Star Wars: Age of Republic
,
Star Wars: Age of Rebellion
, and
Star Wars: Age of Resistance
each focus on a different trilogy and consist of nine chronological issues: eight one-shots spotlighting four heroes and four villains and a special. The event was revealed during SDCC, but details were scare until recently.
Age of Republic looks to the prequel trilogy for inspiration. Writer Jody Houser (Faith, Star Wars: Thrawn) teams with Cory Smith (Nova) and Luke Ross (Star Wars: Thrawn, Star Wars: Darth Maul), who share art duties. The first two releases are Star Wars: Age of the Republic - Qui-Gon Jinn #1, drawn by Smith, and Star Wars: Age of Republic - Darth Maul #1, drawn by Ross. Qui-Gon Jinn #1 will be in stores December 5. Darth Maul #1 is on sale December 12.
Qui-Gon Jinn #1 and Darth Maul #1 feature main covers by Paolo Rivera and concept design variants by Iain McCaig, as well as movie variants. Qui-Gon Jinn #1 also has a variant by Smith and a promo variant by Giuseppe Camuncoli and Elia Bonetti. Darth Maul #1 features a variant by Ross.
Every issue in the event series will feature a puzzle cover variant by a yet-to-be-announced artist.
The remaining issues in Age of Republic will arrive in stores in early 2019:
January 2019
Obi-Wan #1
Jango Fett #1
Special #1
February 2019
Anakin Skywalker #1
Count Dooku #1
March 2019
Padme Amidala #1
General Grievous #1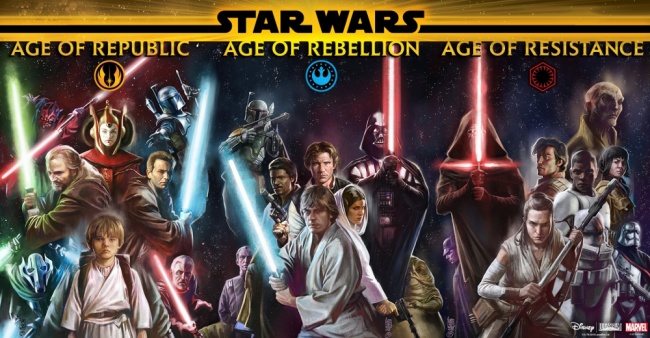 Age of Rebellion focuses on the original trilogy and will be written by Greg Pak. Based on the recent teaser image, it will spotlight Han Solo, Luke Skywalker, Princess Leia, Lando Calrissian, Darth Vader, Boba Fett, Jabba the Hutt, and Grand Moff Tarkin. The rest of the creative team has not been announced.
Age of Resistance will be scripted by Tom Taylor, who will write about characters from the new trilogy: Rey, Finn, Rose Tico, Poe Dameron, Kylo Ren, Supreme Leader Snoke, General Hux, and Captain Phasma. The artists have not been revealed.
The Age of Star Wars event should wrap shortly before the release of the final film in the third trilogy on December 20, 2019 (see "From Tardis To Tie Fighter - Matt Smith Executes Quantum Shift").
Click on the Gallery for cover images.