Fantagraphics' early 2019 releases include new work from indie stalwarts, acclaimed work from international cartoonists, and more.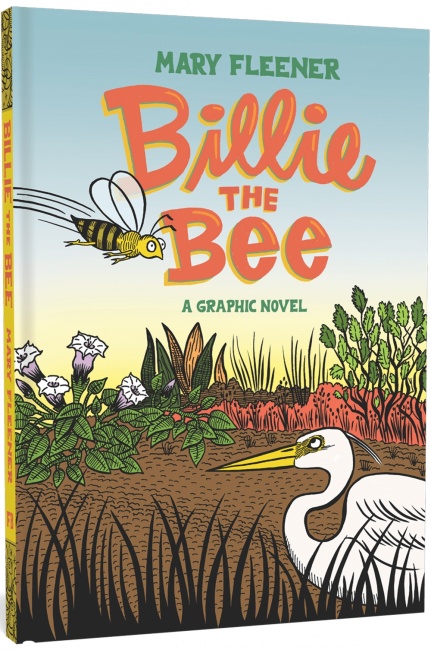 Alternative comics standout Mary Fleener (
The Life of the Party
,
The Complete Wimmen's Comix
) will release her first original graphic novel,
Billie the Bee
, on February 12. Billie the bee is sent on a scouting mission, where she encounters a heron on hallucinogens, dirty joke-telling turtles, and humans whose actions are disrupting the ecosystem. The 128-page, 7" x 8.5" black-and-white hardcover has an MSRP of $14.99.
Hobo Mom is a trans-Atlantic collaboration between Charles Forsman (The End of the Fucking World) and French artist Max de Radigues (Bastard). Natasha, who abandoned her husband and daughter to hop trains and live as a vagrant, returns home after a dangerous encounter. The 64-page, 6.5" x 9.5" duotone hardcover will be in stores on February 12 for an MSRP of $14.99.
Cons De Fee: Erotic Art of Wallace Wood collects the erotic work of the acclaimed comics creator and Mad Magazine satirist. The 200-page, 8.5" x 11" hardcover, which features black-and-white and color (and off-color) artwork, will be in stores on March 12 for an MSRP of $49.99.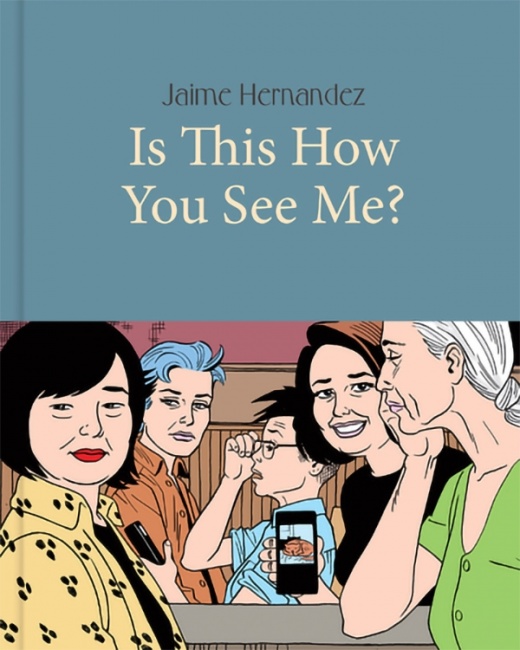 In another March 12 release, Jaime Hernandez explores middle-age through the eyes of his
Love and Rockets
characters Maggie and Hopey in
Is This How You See Me?
, an 96-page, black-and-white hardcover. The 9" x 11.25" volume has an MSRP of $19.99.
Julian Glander's digitally-rendered three-dimensional comic strips for Vice and other outlets are collected in 3D Sweeties. The 176-page, full-color hardcover is on sale March 12. MSRP for the 7.5" x 7.5" volume is $24.99.
Originally serialized in Le Monde, The Perineum Technique from bande dessinee team Ruppert & Mulot explores intimacy in the era of hyperconnectivity through the eyes of JH, a man who becomes obsessed with a woman he meets online. The 112-page, 8" x 10.5" full-color hardcover will be in stores on March 12 for an MSRP of $19.99.
Brazilian cartoonist Marcelo D'Salete explores the colonial-era history of his home country in Angola Janga, which centers on the independent kingdom of runaway slaves that established itself in Brazil in the late 16th century. The 432-page, black-and-white softcover is on sale April 9. MSRP for the 7.25" x 10.25" volume is $39.99.
One of Italian artist Manuele Fior's early works, Red Ultramarine will be released in English for the first time on April 9. The two-color work centers on obsessive architect Fausto and his girlfriend Silvia's journey to save him. The 144-page, 7" x 9.75" hardcover has an MSRP of $19.99.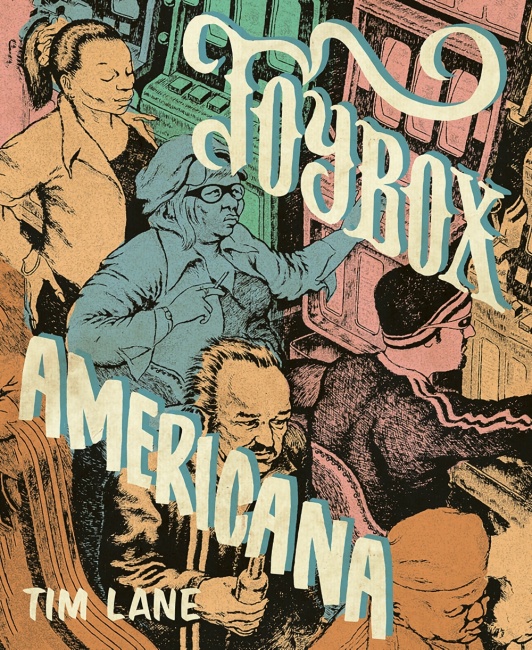 Tim Lane's
Toybox Americana
examines the tapestry 20th century Americana, from jazz clubs and pool halls to casinos and coffeehouses and beyond. The 208-page, black-and-white hardcover is on sale Aril 9. MSRP for the 9" x 11" volume is $29.99.
Another April 9 release will explore the impact of war on those who return from it. Jess Ruliffson traveled the country to collect the interviews for Invisible Wounds: Finding Peace After War, which she illustrated to share the personal stories of the men, women, and nonbinary persons who struggle with their postwar lives. The 108-page, 7.5" x 9.25" full-color softcover has an MSRP of $24.99.
Due to global climate change and resource depletion, the world has basically ended in Ines Estrada's Alienation, but worst of all, Elizabeth and Carlos are bored. The treatise on technology and humanity will be on sale April 16. The 250-page, 6" x 8" dutone volume has an MSRP of $19.99
Click on the Gallery for cover images.