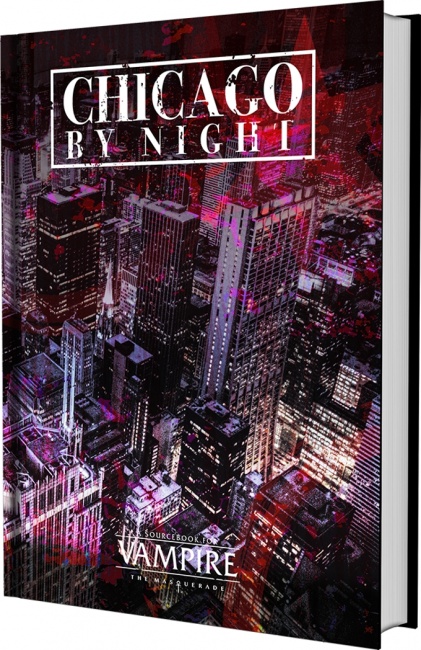 Onxy Path Publishing will release
Chicago by Night,
the company's first supplement for White Wolf's
Vampire: The Masquerade 5th Edition
role playing game. The supplement is being funded by a Kickstarter that has already passed its goal.
The Chicago by Night sourcebook was first announced during Gen Con this summer, and will offer an updated, refreshed version of the iconic city that is compatible with White Wolf Entertainment's Vampire: The Masquerade 5E (see "Preview: 'Vampire: The Masquerade 5th Edition'"). It includes chronicle hooks for Storytellers, the addition of Clan Lasombra as playable characters, updates to the metaplot with encounters, politics, and an explanation of the hierarchy of Kindred in Chicago, and 40 characters. The Chicago by Night hardcover will include more than 240 pages and have a full color interior. MSRP was not announced.
The Kickstarter campaign reached it's $40,000 goal within 24 hours of launch and will continue through November 29. The goal of the Kickstarter is to fund the best production for the book as well as fund a print run to be sold through distribution into the hobby trade. The campaign includes a retailer level for five hardcover copies of the book. Backer fulfillment is currently planned for November 2019 with trade release to follow.