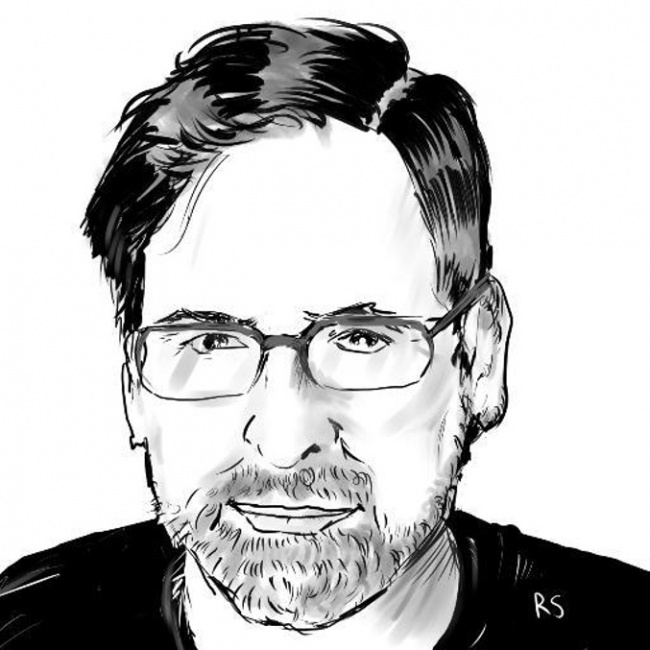 Many of us were devastated as word spread on Saturday that the comics world had lost cartoonist and writer Batton Lash. Batton was best known for his long-running signature work
Supernatural Law
(aka "Wolff & Byrd: Counselors of the Macabre") and the quirky crossover hit
Archie Meets The Punisher
, but he was far more than the sum of his credits. He was a pioneer of self-publishing who stuck to his independent ways long after many of his peers had called it a day; one of the earliest established creators to move from print to digital; and one of the great ambassadors of comics to the wider world. He was also a witty and charming man, a comic art maven second to none, a beloved figure to many in our industry, and a dear friend.
My personal friendship with Bat began in 1997 when I stopped by the booth of Exhibit A Press – the publishing enterprise that he co-founded with his wife, longtime Eisner Awards administrator Jackie Estrada – at my very first San Diego Comic-Con. Then as now, the Exhibit A booth was smack in the middle of the floor, occupying an unmissable patch of real estate on the corner of two major aisles near the Hall C door, just across from DC's massive pavilion. Bat would do his damnedest to make sure no one coming in any direction would leave without seeing a copy of Wolff & Byrd, or at least admiring his impeccably-tailored vintage attire. I have to believe that the combination of the booth's prime location and Bat's extroverted, take-no-prisoners Brooklyn approach to customer service, accounted for a big chunk of Supernatural Law's ability to endure in what became a very rough market for self-published books.
We hit it off immediately, but our friendship really solidified when Bat and Jackie met my wife Eunice, who soon became a staff assistant to Jackie at the Eisners. For 20 years, the Tuesday night before the start of SDCC was "Batton and Jackie night," where the four of us would grab dinner, catch up, plot and gossip about the upcoming Con. In those early days, we were merely fans with aspirations to get more closely connected to the industry, starstruck by the cavalcade of legendary creators who descended on San Diego every summer. Bat and Jackie invited us into that circle, extended genuine friendship, and spent hundreds of hours over the years hanging out with us in hotel bars, exhibit halls, late-night diners and after-hours parties at cons all over the country.
From the outpouring of condolence and affection that greeted Jackie's announcement of Batton's passing on Facebook on Saturday, it's clear that our experience with him was typical of hundreds, maybe thousands, of people from industry insiders to fans and friends. He was loved by many, and remembered by more than three decades' worth of creators for being a voice of encouragement and a source of support. Sure, he had sharp elbows and non-conforming political views that rubbed some people the wrong way over the years, but I think even the people who didn't particularly like him recognized him as a vivacious character and respected him – maybe begrudgingly – for his ability to persevere in the industry on his own terms.
Strictly on the business side, Bat was an innovator in a couple of ways. He was part of the first wave of creators who heeded Dave Sim's rallying cry to self-publish, joining folks like Jeff Smith, Terry Moore and Carla Speed McNeil as the vanguard of a new indie comics movement in the early 1990s. In so doing, he and Jackie became entrepreneurs not just in the way that any freelancer has to hustle up work and manage their own career, but by taking on all the responsibilities of producing, distributing and publicizing their work – all before Kickstarter and social media.
Like those other self-publishing pioneers, Bat chose subject matter with broad appeal to both traditional comic readers and more casual fans who might have been intimidated by the dense, violent, continuity-heavy style of superhero comics in the 80s and 90s. Supernatural Law follows the exploits of two attorneys who defend an assortment of ghosts, monsters and creatures of the night in an endlessly inventive series of stories that combine legal concepts with elements of the occult. Drawn in a style that combines elements of Steve Ditko, Will Eisner and Archie's Dan DeCarlo, Batton kept the mood light and the storytelling crisp, with the pages full of background gags and occasional Easter Eggs for hardcore Silver Age comics fans like himself. Maybe some people came for the monsters, but readers kept coming back for the great characterizations and subplots involving his likeable cast of characters.
For years, Supernatural Law was the comic I'd recommend for new readers who didn't like superheroes and didn't want anything too arty or heavy. Unfortunately, the series was at its height during the mid- to late 1990s, when the comic industry was facing economic peril and there were few paths to market for independently published books. Today, the racks are groaning with intelligent, non-superhero genre books aiming for that same crossover audience that people like Batton risked so much to try to break through to.
He and Jackie were also among the first established creators to move their property from print to digital distribution, using the free digital comics as source material for periodic trade collections. Supernatural Law went online in 2005, and Batton's most recent creative work, a strip called "The First Gentleman of the Apocalypse," is distributed exclusively through David Lloyd's digital-only anthology Aces Weekly. They were also successful early adopters of crowdfunding, using Kickstarter to publish several new collections of Supernatural Law and two volumes of Jackie's photos of industry professionals over the years.
Most of all, Batton Lash was a presence in the comics community. He was a raconteur, a bon vivant, surely the best dressed man in any room he happened to be in, and, along with Jackie, a "king and queen," in the apt words of comics scholar/librarian Karen Green, of a small inner circle of long-time creators, professionals, retailers, convention organizers and superfans whose efforts helped the comics industry cohere and survive through choppy business and cultural headwinds.
To old-timers who would come to SDCC and grumble about the out-of-control crowds and imposing Hollywood megabooths, seeing the familiar Exhibit A Press table at the center of the floor, and Batton holding court with fans old and new, was as encouraging as seeing a lone single-family home sandwiched between skyscrapers: a monument to the dogged persistence of individual grit in the face of corporate commercialism.
Bat lost his two-year fight with brain cancer on Saturday. In the end, that was the only thing that could still his voice. I'll be hoisting a glass of Merlot in your honor at the Hilton Bar this summer, Bat, and I'm sure I won't be alone.
The opinions expressed in this column are solely those of the writer, and do not necessarily reflect the views of the editorial staff of ICv2.com.
Rob Salkowitz (@robsalk) is the author of Comic-Con and the Business of Pop Culture.