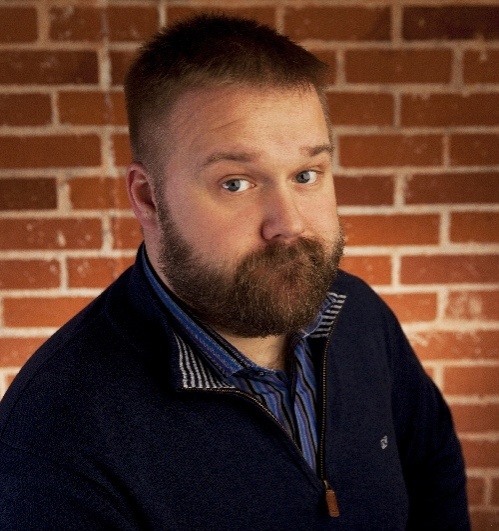 We caught up to The Walking Dead writer and creator Robert Kirkman last week in the run-up to the launch of the second arc of Oblivion Song, his new comic series. In Part 2 of this two-part interview, we talk about the impact of first issues on the market, about Oblivion Song's new arc, about the Invincible movie and TV series, and about Skybound's game business. In Part 1, we heard Kirkman's thoughts on the state of the comics market, on continuing series vs. miniseries, and on the creation of and early response to Oblivion Song.
We were talking about how you keep your comic series running rather than starting with a new first issue every time you start a new arc. Circling back to the macro discussion for a second, do you think there's any correlation between the huge number of number ones we have out there, and the fact that sales are a little soft right now?
Yeah, I think it does get to a point where it's a little overwhelming. I've talked to younger creators starting off in the business. The reason I usually bring this up is because I feel like this is something I even did wrong.
When you start catching a little bit of heat and you've written a comic book, then you start another comic, and then you start another comic, you're bringing that audience with you from series to series. That's how a new writer or a new artist is going to build an audience.
For writers especially, because they can do multiple projects, when you start doing two series a month, three series a month, four series a month, five series a month, you're going to get to a point where you hit a critical mass, where your fan can't read everything that you do.
If you're a fan of seven different writers, and they're all doing five to six to seven different series every month, that's going to break the bank. I always tell creators, "Recognize your output, and try and find that sweet spot," because once your fan base stops buying, once they get to a point where they can't buy every book, then they're not going to buy as many as they would otherwise. If you're doing four books a month, and they can buy four books a month, then you do a fifth book, and they can't buy that, then they're just going to go back to buying two books a month. It'll actually make them buy less of your stuff, I feel.
The industry as a whole, because you have all of these new series, and all these new books coming out and you have Marvel and DC, Image, and other publishers publishing so many books, if you can't buy every Marvel comic (because you're a Marvel comics fan), you're going to buy infinitely fewer Marvel comics. You're only going to cherry‑pick the ones that you want.
The glut in the market, with us publishing so many books, is driving people to buy less and less comics. If I'm an Avengers fan, and it's impossible for me to read every
Avengers
book, well, then I'm only going to read the one or two that I really love. If there's only three or four, I might buy all three or four, just because I loved knowing that I have explored every corner of that world, and I'm getting every inch of that story.
You're starting a new arc on Oblivion Song in March. Tell us a little bit about where you're taking the story.
With all of my books, I try to make sure that the story progresses as much as possible, and that you are getting rewarded for your investment. The characters are changing. The status quo is changing. There's a new narrative coming into place, and you get a sense that this journey that you're on is progressing, and you're going to new places.
That's something that we're doing in a big way, starting with issue 13. There's a lot going on with the other dimension, Oblivion. It was a big mystery for the first 12 issues exactly what was going on there: how it is that the transference happened?
A lot of those mysteries have been answered in that first 12‑issue macro arc. As we dive into issue 13, there's a little bit of progression of time. We've got some new characters that are coming into the forefront that are venturing into Oblivion, and finding more and more things about it.
There's this element of the Faceless Men that are these seemingly intelligent creatures that live in Oblivion that people haven't really encountered very much, that are only seen on the fringes of things in the first 12 issues. Those characters are very much coming to the forefront, starting in issue 13. That's going to complicate matters exponentially for the people on Earth, as they find out that Oblivion is actually far more dangerous than they ever could have imagined.
Note: Kirkman sent us this additional comment on the launch of the new Oblivion Song arc after the interview and asked us to include it:
I just failed to mention that [
Oblivion Song
] issue 13 and the volume 2 TPB collecting issues 7-12 will be shipping on the same day. That's something we do to help retailers build readership in a new title. It's something that worked very well with
The Walking Dead
in the early days. The hope is that a reader who hasn't tried the series, sees that they can get all caught up very easily right away by buying the trades and the current issue.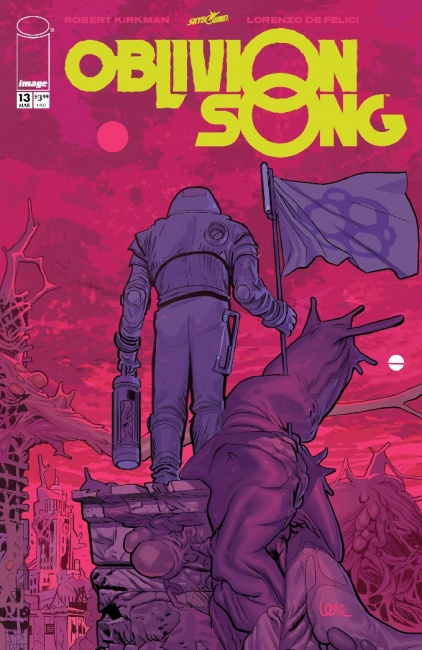 You said earlier you write for yourself as a fan in some ways. For a store owner, which is a big part of our audience, who is the customer you think is the best fit for Oblivion Song?
It's hard to say. There are those lapsed readers, those people that have been reading comics for a very, very long time, and aren't necessarily happy with the current things that they're getting. Maybe that's from Marvel or DC, maybe that's from somewhere else.
I think that all of Image comics are trying to offer a very valid alternative to people that just read Marvel and DC comics. Just being realistic, there are a huge number of fans that are really just into superhero comics, love reading those two universes, and that's their main bread and butter. When they think of comics, that's what they think of.
Oblivion Song
and other books,
Walking Dead
, many, many comics that Image publishes, they have the spectacle of big superhero comics, they have the nuance of big superhero comics, but they're offering things just a little bit different.
I like to think of Image comics as a whole as a great alternative to people who maybe have read 30 years of
Captain America
, and are like, "This is starting to get a little repetitious. I think I need to move on." Image should be the thing that they move on to.
At one point there was an Invincible movie in development (see "Robert Kirkman's 'Invincible' Optioned by Universal"). Now, more recently, there was a deal for an animated series (see "Amazon's 'Invincible'"). What's going on with adaptations of Invincible?
They're both very much still in process. There is not any news I can discuss right now, unfortunately, but the
Invincible
animated series is deep into production. I'm reviewing animatics; we're working with overseas studios; we're very far into casting. There should be some big announcements coming up very soon.
While we don't have a set release date, or I can't publicly say the set release date just yet, I'm hoping that by the summertime we'll have a big marketing push that begins, and there will be a steady stream of advanced looks, cool reveals, and things leading up to the launch of that series.
The movie is happening alongside the animated series. I'm in constantly contact with Seth Rogen and Evan Goldberg, who are writing, producing, and directing that movie with myself and my team at Skybound. That's something that is absolutely ongoing, and things are looking really good. I couldn't be happier with what Seth and Evan are doing with the world.
In some amount of time, there's going to be a lot of
Invincible
going on all over the place, which is really exciting for me.
And then for our game retailer readers, we should ask: Skybound's gone into the games business the last couple of years. How did that come about? Are you a gamer? How did you decide to go into games?
I like games quite a bit. Shawn Kirkham and David Alpert at Skybound are probably a little bit more into games than I am. We've had a lot of success with
Superfight
, so that opened up that world to us. It was something that we really wanted to dive into.
I think that with James Hudson coming in, we've done a really great job of bringing more and more games into the Skybound ecosystem. It's an area that I think Skybound handles really well. We've had a lot of success with it, and so I think we're going to keep doing more.
It's something that our team is very passionate about. I come by the office, and people are playing games nonstop. Testing out new games, and figuring out new things to do with games. It's something that we all enjoy.
Anything else you want to get out there to our retailer audience?
I always want to make sure that I just voice how much I appreciate all the hard work that they do. I feel like it's a reciprocal relationship that we have between Skybound and the retailers. I recognize the sacrifices that they make in order to support the product that we do. The fact that I can launch
Oblivion Song
and
Die! Die! Die!
in the same year, in two very different ways, and they're both embraced.
I love the feedback that we get from retailers. I hope that they recognize that we do listen to the feedback. We make adjustments constantly based on what we're hearing, and we make plans based on things that we've heard from them at our retailer breakfast that we do at San Diego and New York Comic Con. I feel like we've got a really good relationship with them.
I hope that they understand just how much we appreciate what they do, and how we hope to continue the successful partnership that we've been building for many, many years.
Click here
to go back to Part 1.