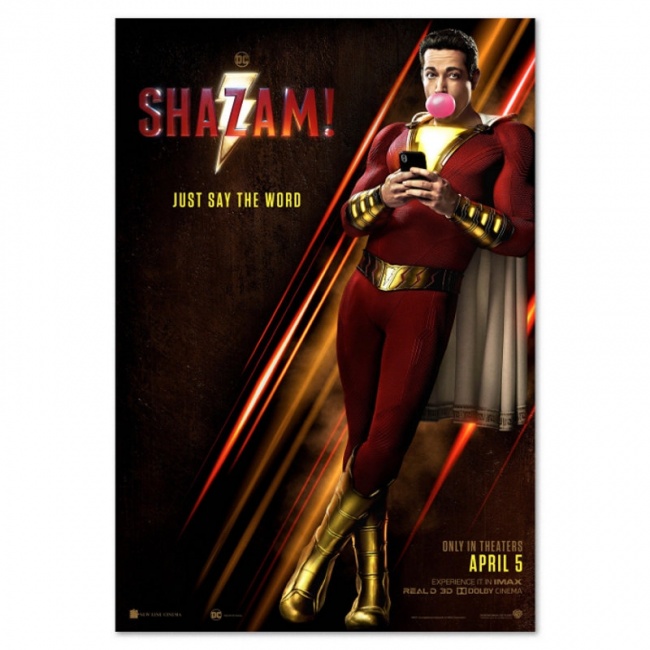 Warner Bros. kid-friendly superhero film
Shazam!
topped the box office for the second week in a row as only one of four new films over-performed. While
Avengers: Endgame
may yet save the April box office, this weekend was down about 26.6% from the same frame last year when the video game-inspired action/adventure
Rampage
debuted with $35.7 million.
Shazam!
slipped just 53%, a solid result that left the "original Captain Marvel" film with a domestic gross of $95 million and a global haul of $258.8 million. Sometime early this week
Shazam!
will become the seventh film of 2019 to pass the $100 million mark at the North American box office.
Surprisingly second place went to the body-swapping comedy
Little,
which earned $15.5 million and a solid "B+" CinemaScore from audiences that skewed heavily female (65%) with 56% aged 25 or older. African-Americans accounted for 43% of the audience.
Lionsgate's
Hellboy
disappointed, earning just 12 million, well below the $17-20 million opening that was predicted (which was already well below the totals of the first two
Hellboy
films directed by Guillermo Del Toro, which bowed with $23 million in 2004 or
Hellboy 2: The Golden Army
, which opened with almost $35 million in 2008).
The new
Hellboy's
prospects are poor at best with only an 11% positive rating on review aggregator Rotten Tomatoes, and an abysmal "C" CinemaScore from opening weekend audiences that skewed heavily male and older with 63% of the ticket buyers over 25.
Originally conceived as a direct sequel to
Hellboy 2
, the new
Hellboy
offering was originally intended for Del Toro to direct with Ron Perlman reprising his role as the eponymous half-demon, but director and star both walked when the producers, noting no doubt that the first two
Hellboy
movies didn't make money, decided to reduce the budget from $70 million to $50 million.
While readers of this column will no doubt remember the criticism leveled at excessive budgets for films with limited audiences (Tim Burton's
Dumbo
is the latest example), there is such a thing as "false economy," which was definitely a factor in the failure of this third
Hellboy
film as was producer interference (in mid-production, the producers fired the cinematographer who had worked on all the major projects of director Neil Marshall, whose primary experience was in directing some well-received episodes of Game of Thrones). Would a third Del Toro
Hellboy
film have finally turned Mike Mignola's demon/hero into a big screen success? Perhaps not, but the results would probably have been better than we have seen with this film, which may not even earn $50 million here in North America.
Weekend Box Office (Studio Estimates): April 12-14 2019

Film

Weekend Gross

Screens

Avg./Screen

Total Gross

Wk#

1

Shazam!

$25,140,000

4,306

$5,838

$94,913,013

2

2

Little

$15,499,000

2,667

$5,811

$15,499,000

1

3

Hellboy

$12,015,000

3,303

$3,638

$12,015,000

1

4

Pet Sematary

$10,000,000

3,585

$2,789

$41,121,660

2

5

Dumbo

$9,186,000

3,706

$2,479

$89,945,162

3

6

Captain Marvel

$8,626,000

2,975

$2,899

$386,536,581

6

7

Us

$6,946,000

2,768

$2,509

$163,498,425

4

8

After

$6,200,000

2,138

$2,900

$6,200,000

1

9

Missing Link

$5,841,434

3,413

$1,712

$5,841,434

1

10

The Best of Enemies

$2,000,000

1,705

$1,173

$8,101,570

2
Fourth place went to Paramount's remake of Stephen King's Pet Sematary, which dropped 59.2% in its second frame, earning $10 million and bringing its domestic cumulative to $41.1 million. With global total of $76.5 million, this $21 million production is already in the black, though it is not a hit on the scale of the 2017 hit adaptation of King's It.

Tim Burton's Dumbo slipped 49.6% as it added $9.18 million to bring its domestic total to almost $90 million. With a global tally of $267 million, this $170 million production is still in the red and not likely to escape, though it will provide some more stylish fodder for the Disney+ streaming channel launching this year.

Marvel Studio's Captain Marvel ended its sixth weekend of release in sixth place, dropping 30.6% as it added $8.6 million and driving its year-to-date leading domestic total to $386.4 million, which means that a $400 million domestic run is still very much in play.

The college "romance" movie After, which benefited from a strong social media campaign, earned $6 million from its target audience of younger females. Women made up 76% of the opening weekend audience, which skewed younger with 73% of the crowd under 25. Produced for $14 million, After earned a "B" CinemaScore.

Laika's animated Missing Link fared even worse, earning just $5.8 million, the worst showing yet for the studio. Missing Link earned solid notices from the critics (89% positive on Rotten Tomatoes), and a "B+" CinemaScore from audiences, so perhaps there is some hope for Missing Link, though competition for younger viewers is ratcheting up.

Be sure to check back here next week to see if Shazam! can maintain its dominance in the face of competition from 3 new films including the original horror film The Curse of La Llorona, the Disneynature documentary Penguins, and the Christian drama Breakthrough.