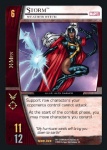 ICv2 has already covered much of Upper Deck Entertainment's robust schedule of collectible card games for 2004, which includes Marvel and DC CCGs, plus Shaman King, Teenage Mutant Ninja Turtles, and Bratz games, but there is still more to report. Upper Deck is also planning an additional CCG aimed at girls (Winx Club), a number of licensed releases for its BreaKey game, and several key trading card releases in addition to the previously announced cards for the blockbuster Spider-Man 2 (see 'Upper Deck to Release Shaman King'). In addition to all this we must report that the box art by Drew Struzan for the Marvel CCG and Brian Stelfreeze for the DC CCG is simply stunning.
Don Williams of UDE described the Winx Club CCG as 'a cross between Harry Potter and Barbie.' The players in the Winx Club game are training to become magical fairies and the emphasis is on helping each player reach her goal. Williams told ICv2: 'We've discovered that while boys' games are all about competition and destroying the other guy, girl's (games) are all about collaboration...The (girls' market) has never been tapped before -- this is a golden opportunity with Winx Club and Bratz to reach out to girl gamers. The industry is ripe for this.'
Upper Deck's BreaKey game (see 'Upper Deck to Release BreaKey Game in December'), which mimics many of the features of the collectible card game (with plastic keys rather than cards) and was launched last year with original characters, will soon have licensed versions, which will enable players to battle with their favorite superheroes and athletes. Upper Deck will launch its Major League Baseball BreaKey expansion in April, Marvel and Pokemon versions in June, with National Football League and National Hockey League sets out in August and September respectively.
Upper Deck also has a number of trading card releases planned for 2004 (in addition to Spider-Man 2), including a 100-card series of Disney Treasures Collectible Cards shipping in Jun, a Mickey Mouse Seventy-Fifth Anniversary Celebration boxed set (one of which contains an actual Walt Disney autograph), and a series releasing in October for Pixar's The Incredibles, which could turn out to be almost as big as the Spider-Man 2 release.