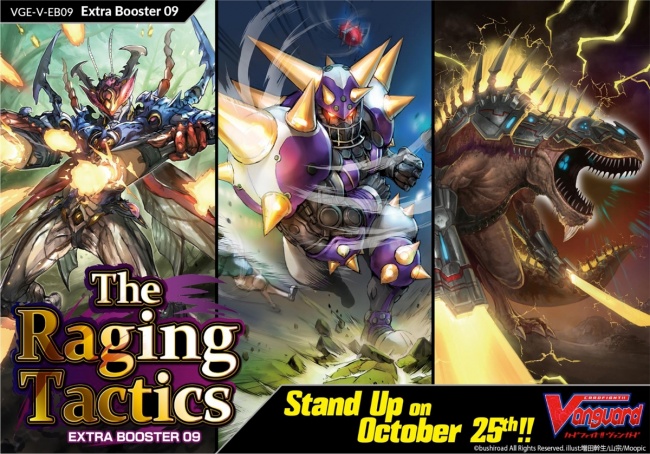 The Raging Tactics
booster expansion for Bushiroad's
Cardfight!! Vanguard
trading card game will release on October 25.
The Raging Tactics will feature the same three clans that were the focus of last summer's The Destructive Roar set (see "'Cardfight!! Vanguard' – Units for Three Clans Arrive"): the Spike Brothers, Tachikaze, and Megacolony. The new set will also reprise a number of popular cards, including Bad End Dagger and Unrivaled Blade Rogue, Cyclomatooth.
The new expansion will be sold in 7-card booster packs, with a total of 66 different card types, including 11 reissue cards, as well as an undisclosed number of Parallel cards. Each booster pack will include two cards with rarity R or higher. The Raging Tactics features Trigger Units and First Vanguards, so that players can build complete decks using only cards from this expansion. Each 12-pack display box will come with 3 Gift Markers, and will include one VR or SVR card.
To support the launch, Bushiroad is offering The Raging Tactics Sneak Preview Kit for retailers who want to host a pre-release event during the weekend of October 18-20. Each kit comes with 39 booster packs, 9 promo cards, and 2 premium rubber playmats, enough material to support 8 players.
The Raging Tactics will release about a month after Phantasmal Steed Restoration (see "Team AL4 Brings 'Phantasmal Steed Restoration'").