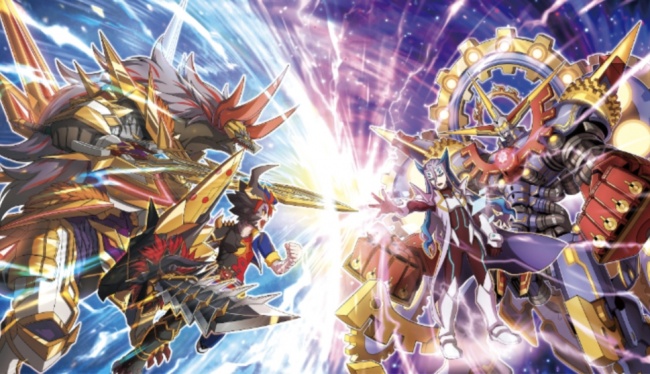 Bushiroad has revealed
Future Card Buddyfight Ace Booster Pack Alternative Vol. 2 - Blazing Overclash
for release on September 13
.
The new booster set will feature many monsters from past series, including the Thunder Empire's Batzz, and Chaos' Geargod. Along with returning monsters, characters like Ikazuchi and Kazane receive enhancements for their decks.
Blazing Overclash features 116 cards, including BR: 4; SP: 10; Secret: 20; RRR: 10; RR: 12; R:24; U: 18; and C: 18. Every pack will include 5 cards, with 1 card being a guaranteed R or above rarity. Bonus Secret Packs and RRR cards are randomly inserted. The set will include parallel foils of commons, uncommons and rares. Every display of Blazing Overclash is guaranteed to include a BR, SP, a bonus Secret Pack or RRR Card. There are 30 packs per display and 16 displays per carton.
Blazing Overclash will follow the release of Booster Pack Vol. 5 - War of Dragods in August (see "'Future Card Buddyfight Ace Booster Pack Vol. 5'").