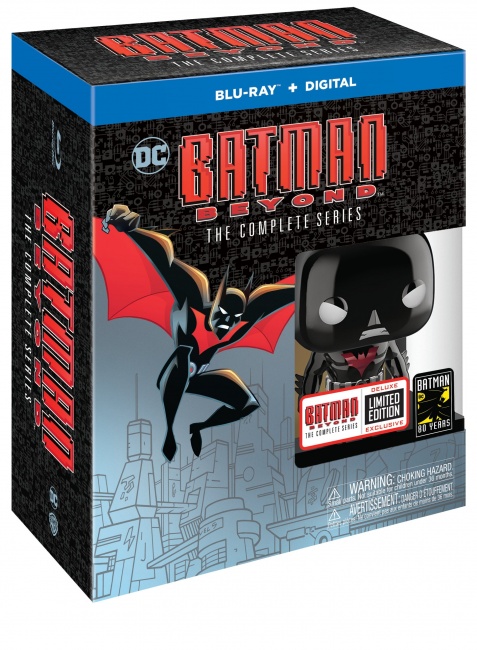 San Diego Comic-Con News:
Warner Bros. Animation has announced the October 15 release of the first high-definition release of the groundbreaking 52-episode 1999-2001
Batman Beyond
animated series developed by Bruce Timm, Paul Dini, and Alan Burnett. The deluxe six-disc package includes over 1500 minutes of entertainment spread over 4 Blu-ray discs plus 2 discs of enhanced content, including a Blu-ray version of the feature length movie Batman Beyond: Return of the Joker, 15 featurettes detailing every aspect of the production, as well as four episodes with audio commentary from Timm and others involved in the production.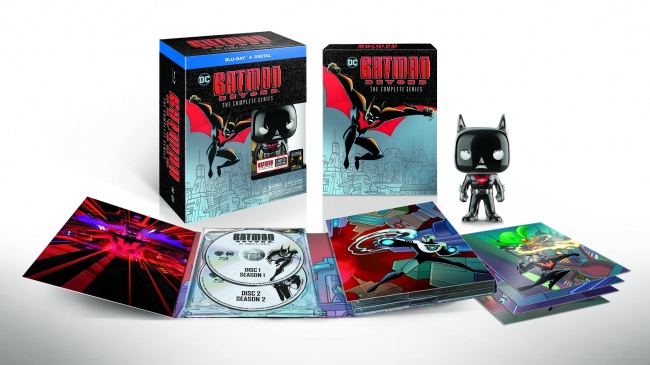 Of particular interest to collectors is the fact that the
Batman Beyond Limited Edition Blu-ray
, which is limited to 50,000 sets, also contains some exciting collectibles including an exclusive chrome Batman Beyond Funko POP, as well as four lenticular
Batman Beyond
art cards produced especially for this edition.
The Batman Beyond Limited Edition Blu-ray Box
will have an MSRP of $99.99.
Batman Beyond, which was set in the futuristic Gotham City of 2039, was the first Batman series to portray the hero as a teenager. The young caped crusader is under the tutelage of an elderly Bruce Wayne, who has his own share of psychological problems that were examined in this "darkest" of the Batman Animated shows that featured cyberpunk tropes and dealt with the dilemmas created by technological innovations and other themes that were "heavier" than the usual Saturday morning cartoons of the turn-of-the-century era.
The top tier vocal casts for the series and the feature-length Return of the Joker included Kevin Conroy, Will Friedle, Cree Summer, Frank Welker, Angie Harmon, Mark Hamill and Dean Stockwell, with numerous guest stars Paul Winfield, Stockard Channing, Johnny Galecki, George Takei, Seth Green, Patten Oswalt, Ice-T, and Pauley Perrette to name just a few. The 52-episodes of Batman Beyond were animated in South Korea, while the feature-length Batman Beyond: Return of the Joker was done in Japan by TMS.
Forty-one of the series' 52 episodes were re-mastered from the original 35mm, and the re-mastering did result in a loss of about 3% of the screen image, but the enhanced detail and vibrant colors are a definite improvement. Because of damage to the original material, the other 11 episodes were "smart rezzed," a process that does sacrifice horizontal lines for a clearer image. The episodes that were affected are: "Eyewitness," "Final Cut," "Last Resort," "Armory," "Sneak Peak," The Eggbaby," Zeta," "Plague," "April Moon," "Sentries of the Lost Cosmos," and "Speak No Evil."
The release of this deluxe edition of Batman Beyond is part of DC and Warner Bros.' ongoing celebration of the Caped Crusader's 80th anniversary (see "DC Plans Global Celebration Events For Batman's 80th").