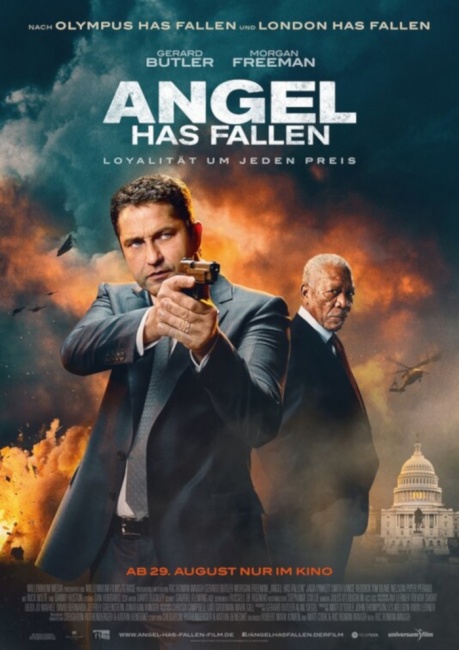 The action film
Angel Has Fallen
surpassed expectations with a $21 million bow to help lift the box office to a slight year-over-year gain in what is traditionally one of the slower weekends of the year. After losing ground in the first three weekends of August, the box office posted a modest 3.5% gain over the same frame a year ago when
Crazy Rich Asians
remained at #1 for the second week in a row with $24.8 million.
Angel Has Fallen
is the third film in the action franchise (described quite accurately as "
Die Hard
in the White House") starring Gerard Butler.
Angel Has Fallen's
$21.3 million debut is almost identical with that of its predecessor, London Has Fallen, which opened with $21.6 million in 2016. The critics didn't like
Angel
at all, giving it just a 40% positive rating on review aggregator Rotten Tomatoes, but audiences, which skewed slightly male (51%) and much older (58% over 30), gave the threequel a good "A-" CinemaScore, which bodes well for its box office future.
Second place went to last week's winner, the R-rated comedy
Good Boys
, which slipped just 45% in its second weekend as it earned $11.75 million to bring its domestic total to $42 million. Is
Good Boys'
success just a one-off, or will it signal a revival in the R-rated comedy subgenre?
The faith-themed film
Overcomer
,
directed by the Kendrick brothers, also surpassed expectations in its debut as it brought in $8.2 million, which was good enough for third place (though final numbers due tomorrow may send it to 4th). Critics loathed the film giving it just a 38% positive rating, but audiences gave it a rare "A+" CinemaScore, which means it could match the $67 million earned by the Kendricks' previous film,
War Room
.
Weekend Box Office (Studio Estimates): August 23-25, 2019

Film

Weekend Gross

Screens

Avg./Screen

Total Gross

Wk#

1

Angel has Fallen

$21,250,000

3,286

$6,467

$21,250,000

1

2

Good Boys

$11,750,000

3,353

$3,504

$42,057,505

2

3

Overcomer

$8,200,000

1,723

$4,759

$8,200,000

1

4

The Lion King

$8,150,000

3,300

$2,470

$510,635,735

6

5

Fast & Furious Presents: Hobbs & Shaw

$8,140,000

3,312

$2,458

$147,701,255

4

6

Ready or Not

$7,550,000

2,855

$2,644

$10,578,148

1

7

The Angry Birds Movie 2

$6,365,000

3,869

$1,645

$27,091,263

2

8

Scary Stories to Tell in the Dark

$6,000,000

2,927

$2,050

$50,489,202

3

9

Dora and the Lost City of Gold

$5,200,000

2,843

$1,829

$43,099,953

3

10

Once Upon a Time in Hollywood

$5,000,000

2,209

$2,263

$123,187,467

5
Next comes Disney's megahit The Lion King, which earned $8.1 million to bring its domestic total to $510 million. With overseas earnings of nearly a billion dollars, The Lion King is not Disney's biggest hit (not adjusting for inflation) that wasn't either a Star Wars or an Avengers film.

In a virtual tie with the above two films was Hobbs & Shaw, which also brought in $8.2 million to drive its domestic total to $147 million. The big news for Hobbs & Shaw was its $102 million debut in China, the second biggest of 2019 so far (behind only Avengers Endgame), and the biggest ever in August. With a global tally approaching $600 million (75% of which was earned overseas) the pricy ($180 million) Hobbs & Shaw is heading for the black.

The one new film that underperformed was the smart horror/thriller Ready or Not, which brought in just $7.55 million over the three-day weekend. The critics loved Ready or Not, giving it an 85% positive rating on Rotten Tomatoes, and audiences, which skewed female (53%) and much younger (79% under 35), gave it a solid "B+" CinemaScore, so in spite of its slightly disappointing debut, Ready or Not could rebound.

Expanding to over 900 theaters, the "feel good" comedy drama The Peanut Butter Falcon earned $3 million.

Check back here next week to see if the supernatural thriller Don't Let Go can make an impact on the last weekend of the summer box office season.