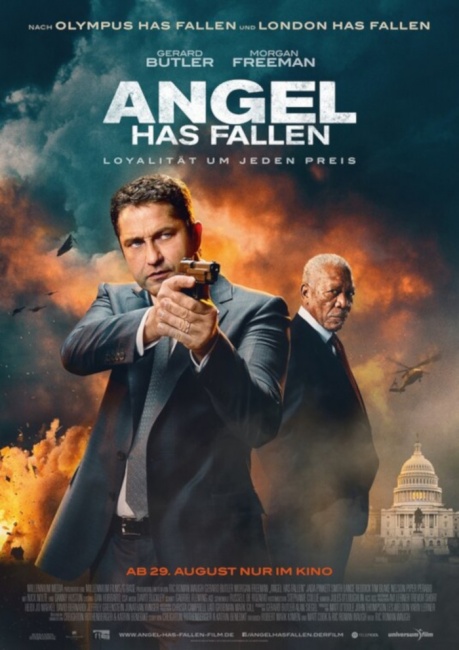 Traditionally Labor Day weekend is the least "cinema-friendly" holiday of the year, and this year's installment pr0ved to be no exception with the thriller
Angel Has Fallen
topping the three-day box office with $11.57 million on what was the second slowest weekend of the year so far at the cineplexes.
Overall the summer movie season looks to be down 2-3% from last year, though it should be noted that in unadjusted dollars it is the eighth biggest summer in modern box office history. Still, 2019 is now at least 6% below 2018's record box office pace, and this Labor Day weekend didn't help the cause at all, with the total of the top twelve films down 33.7% from the same frame in 2018 when
Crazy Rich Asians
topped the charts for the third straight weekend with nearly $22 million.
Angel Has Fallen
, the third film in the "
Fallen
" franchise, should end the 4-day weekend with $14.5 million and a domestic total of close to $44 million. The fact that this Gerard Butler opus dropped just 46% is good news, but it will face an increasingly competitive marketplace starting with the release of It, Chapter 2 on Friday.
The R-rated comedy
Good Boys
remained in second place dropping just 21% over the three-day weekend, earning $9.19 million. With $11.6 million expected for the 4 days,
Good Boys
should finish the holiday with $58.5 million—a rare, and much-needed win for the R-rated comedy genre.
Disney's photo realistic rendering of
The Lion King
dropped just 16.8% in its seventh weekend of release, adding $6.7 million to bring its domestic total to a mammoth $521 million. With a global total of $1.56 billion, this version of
The Lion King
is now the seventh biggest box office hit of all time (not adjusting for inflation, but still very impressive).
Weekend Box Office (Studio Estimates): August 30-September 1, 2019

Film

Weekend Gross

Screens

Avg./Screen

Total Gross

Wk#

1

Angel has Fallen

$11,575,000

3,336

$3,470

$40,689,221

2

2

Good Boys

$9,190,000

3,458

$2,658

$56,197,965

3

3

The Lion King

$6,708,000

3,190

$2,103

$520,937,294

7

4

Fast & Furious Presents: Hobbs & Shaw

$6,280,000

2,972

$2,113

$157,092,350

5

5

Overcomer

$5,700,000

1,827

$3,120

$17,246,629

2

6

Ready or Not

$5,616,000

2,998

$1,873

$20,092,573

2

7

Scary Stories to Tell in the Dark

$5,000,000

2,747

$1,820

$57,620,246

4

8

Spider-Man: Far from Home

$4,260,000

3,162

$1,347

$384,712,588

9

9

Dora and the Lost City of Gold

$4,140,000

2,477

$1,671

$49,597,691

4

10

The Angry Birds Movie 2

$4,115,000

3,311

$1,243

$33,905,108

3
The Fast and Furious spin-off Hobbs & Shaw finished in fourth and should be near $159 million by the end of Monday. While it still lags behind John Wick 3 ($171 million) in the race for action film of the summer here in North America, it has done very well overseas ($525 million for a global total of $684.2 million).

Fifth place went to the faith-themed film Overcomer, which should finish the weekend with nearly $19 million.

The big news in the bottom half of the top ten was Sony's re-release of Spider-Man: Far From Home with four minutes of extra footage in over 3,000 theaters, a move which should add $5.4 million and bring the film's domestic total to $386 million.

This weekend's two new films were released in just 900-1000 theaters to little effect. The Blumhouse thriller Don't Let Go should end the 4-day weekend with $3 million, while the faith-themed motocross film Bennett's War posted one of the worst showings ever for a film released in more than 600 theaters, earning just $580,000 over the 4-day holiday weekend.

Be sure to check back here next week for the start of the fall movie season, the first frame of which belongs entirely to It: Chapter Two, which will bow in over 4,400 theaters with some analysts predicting an improvement over the massive $123 million opening of the installment of the Stephen King adaptation.