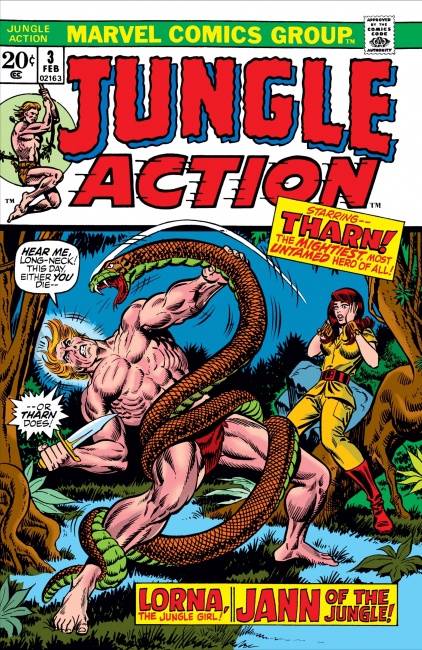 Confessions of a Comic Book Guy is a weekly column by Steve Bennett of Super-Fly Comics and Games in Yellow Springs, Ohio. This week, Bennett explores the greenery-overrun reaches of the jungle comics genre.
A couple of weeks ago, I wrote how the lead character from the upcoming movie
Shang-Chi and the Legend of the Ten Rings
came out of 70s Kung Fu comics (see "
Confessions of a Comic Book Guy - A Resumption Of Kung Fu Fighting
). This time I have another neglected genre in mind. It's Marvel's 80th anniversary, and along with a special edition of
Marvel Comics
#1 this year, Marvel has been doing a series of one-shots featuring some of their lesser-known characters and genres. These have included
Journey Into Unknown Worlds, Crypt of Shadows, War Is Hell, The Gunhawks, Love Romances,
and
Ziggy Pig - Silly Seal Comics
, all of which were collected in June in the trade paperback
Marvel Comics: Timeless Tales
.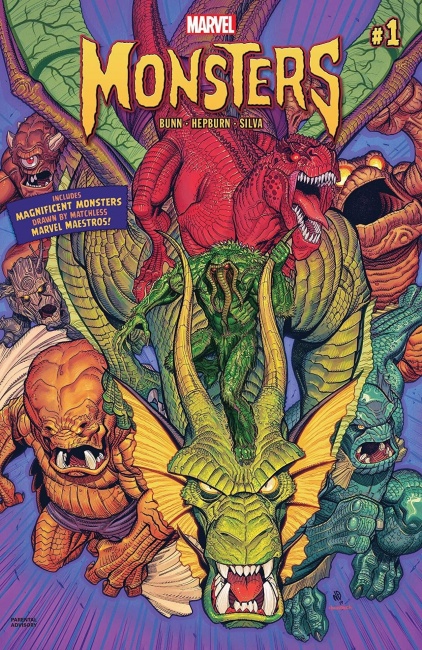 And just last week they released
Monster Comics
. I've never made a secret of my love for the Lee/Kirby monster comics of the 50s and early 60s so I was admittedly confused but ultimately very much pleased to discover Fing Fang Foom will appear In
Shang-Chi And The Legend Of The Ten Rings
. It's definitely a bold move, but Marvel movies require some kind of next-level science fantasy element and without Fing Fang Foom,
Shang-Chi
is basically just a movie about a guy who fights really well. Plus, there's the whole martial arts/dragon connection, and there is that no doubt having an actual dragon in it won't hurt its box office appeal in China. And, personally, I'm hopeful this will lead to the realization of a life-long dream; a
Monsters Unleashed
movie. (I know that seems highly unlikely, especially given that according to many,
'Godzilla: King Of The Monsters' Is A Terrifying Box Office Disappointment
. But there's still the revenue from streaming and home video to consider and a lot will depend on how well next year's
Godzilla Vs. Kong
does. Here's hoping it does do well because I really want to see a (preferably animated
Spider-Man: Into The Spider-Verse
style) movie where Kid Kaiju teams up with Red Ronin and It the Living Colossus against. an all-out monster invasion from Planet X.)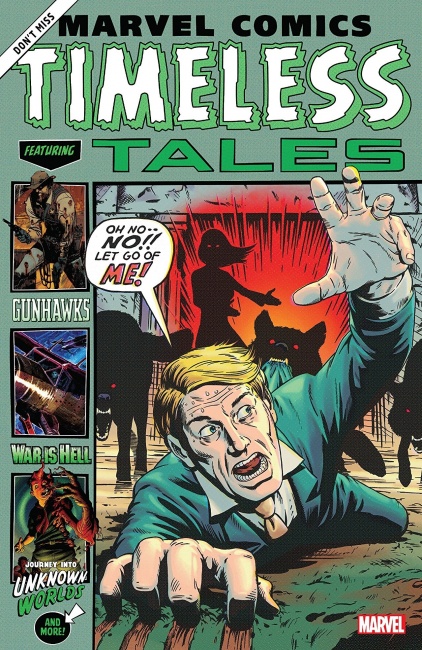 While science fiction, horror, war, western, romance, and funny animals are all genres represented in
Timeless Tales
, one genre is suspiciously absent, jungle comics. Where is the issue of
Jungle Action
? Preferably featuring one of Marvel's oldest characters, Ka-Zar, who debuted in his own short-lived pulp magazine in 1936 prior to appearing in
Marvel Comics
#1
. This Ka-Zar was a guy named David Rand raised by lions in Africa who has zero connection to Kevin Plunder the current Marvel character who goes by the same name. I have no idea why there hasn't been one, but if I had to guess I'd say it most likely had something to do with the fact jungle comics are currently considered to be about as passe as Kung Fu comics.
Which is kind of odd, considering how popular jungle movies are. I've always thought of the jungle genre as being passe, a relic of the previous century, but then I began to realize how many successful movies qualify as jungle adventure movies.
Raiders of the Lost Ark,
Romancing The Stone,
Congo
,
Predator
,
Anaconda
,
King Kong, Kong: Skull Island
and all of the
Tomb Raider
movies. And I wouldn't have thought of either
Jurassic Park
or
Lost World: Jurassic Park
as being jungle movies', but both are on "The Best Adventure Movies That Take Place in the Jungle" list on
Ranker
. They also seem to be surprisingly popular with younger audiences too, given the recent success of
Jumanji: Welcome to the Jungle
(a sequel,
Jumanji: The Next Level
, is coming this December),
Hey Arnold: The Jungle Movie,
and the surprise critical hit
Dora And The Lost City Of Gold
.
In comic books, "jungle" has always pretty much exclusively meant Tarzan rip-offs like Ka-Zar which isn't meant as either an insult or accusation; every comic book publisher usually had one if not many clones of the character. It's understandable given how popular he once was. Author Harlan Ellison once famously said that "there are only five fictional characters known to every man, woman, and child on the planet, Mickey Mouse, Sherlock Holmes, Tarzan, Robin Hood... and Superman."
2016's
The Legend of Tarzan
had a $180 million production budget and made $356.7 million, which apparently wasn't good enough to justify a sequel. That is a shame as it was a very good Tarzan movie. The producers did a fine job modernizing the material for today's audiences. Alexander Skarsgård may have been the best Tarzan on the Silver Screen yet, and Margot Robbie made an even better Jane. But, it was generally thought that the property came with too much baggage, and Tarzan was too intrinsically dated to be a big popular success. Critics and film producers giving credence to the idea that the problem with
The Legend of Tarzan
was Tarzan is the reason why another story about someone raised by animals came out that year, Jon Favreau's live-action
Jungle Book,
which cost $175 million and made $966 million.
Which circles me back to the latest jungle movie,
Dora And The Lost City of Gold
. Along with the reviews being almost overwhelmingly positive, most critics seemed to be startled by how well it updated all of the standard jungle movie tropes and cliches. A reaction probably best summed up by the headline of the review by Libby Emmons which appeared in
The Federalist (
of all places),
'Dora And The Lost City of Gold' Could Have Been Way Worse
.
Simmons makes the case
Dora
isn't a "jungle" movie but rather an "archaeology movie" like
Raiders of the Lost Ark
seeing as how it "has all the elements of a great archaeology movie: impromptu water slides, ancient aqueducts, symbols, confusing trails, booby traps, and quicksand." I find that term a bit of a stretch, especially when she declares
The Goonies
one as well. As final thought, I suggest it would be interesting if Marvel tried to make jungle comics that were more like jungle movies, and less like the way jungle comics have been done so far.
The opinions expressed in this column are solely those of the writer, and do not necessarily reflect the views of the editorial staff of ICv2.com.