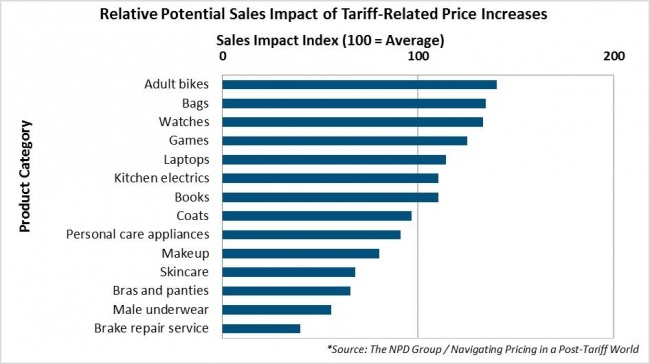 Games and books are among the categories most likely to lose sales due to tariff-related price increases, according to a new study by NPD Group that used survey and POS data and analysis. The study,
Navigating Pricing in a Post-Tariff World,
found that categories deemed "nice to have" rather than necessities will experience the biggest sales impacts. The categories NPD identified as likely to feel the biggest sales impacts from price increases due to tariffs included games, books, and a number of other non-essential items such as bicycles, handbags, luggage, watches, televisions, and headphones.
The study examined three dozen merchandise categories using a survey of over 2500 consumers who purchased or planned to purchase those categories. It also used point-of-sale data from 2016 to 2019, examining the impact of price increases on categories that had already been subject to tariffs.
Increased tariffs on games and books (see "
Game, Books, Periodicals, Toys Targeted in New Round of China Tariffs
") have been delayed for now, but this study paints a darker picture of the potential impact if and when they do take effect.
Click Gallery below for NPS's full-size category chart!