Fantasy Flight Games unveiled that Ms. Marvel: Hero Pack and Ms. Marvel: Game Mat, for use with Marvel Champions: The Card Game, will land in stores in Q1.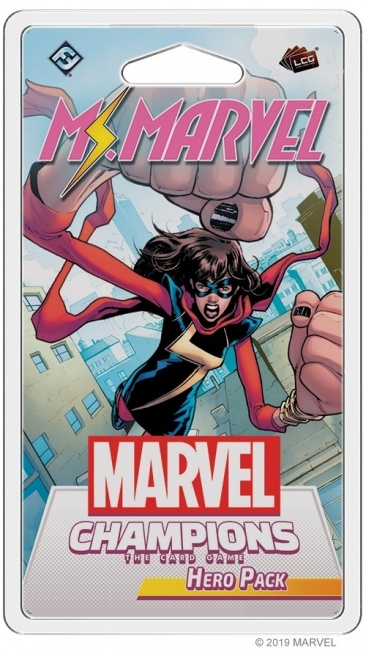 The
Ms. Marvel: Hero Pack
includes several new cards for use with
Marvel Champions
:
The Card Game
. Kamala Khan as Ms. Marvel is one of the most versatile heroes in the MCU, and her new deck offers several exciting gameplay options. Although Ms. Marvel has a relatively inexperienced Champion card, her morphogenetic mastery allows her to deal serious damage with cards like Big Hands while defending herself with cards such as Energy Barrier. She also can use Alter-Ego Actions that allow her to draw more cards at the end of the player phase. This new Hero Pack will retail for $14.95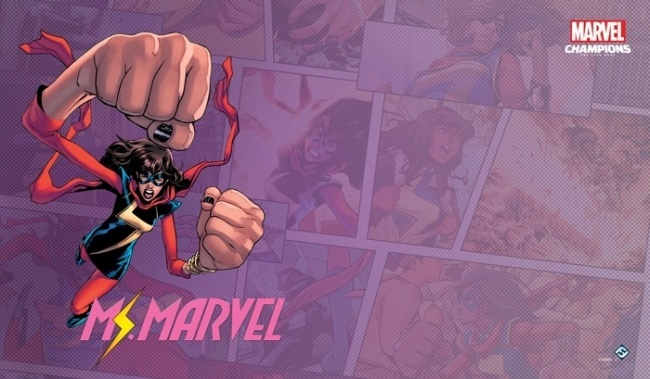 To complement the new Hero Pack, Fantasy Flight Games will also release a 24x12 slip-resistant
Ms. Marvel: Game Mat.
This mat features Ms. Marvel's Champion card art as well as provides players a dry space to safely set up their play area. It will retail for $19.95.
Fantasy Flight Games also announced the Captain America: Hero Pack and Mat for Q4 (see "Fantasy Flight Games Reveals 'Captain America: Hero Pack' and 'Game Mat'").
Click Gallery below for full-size images of the cards!