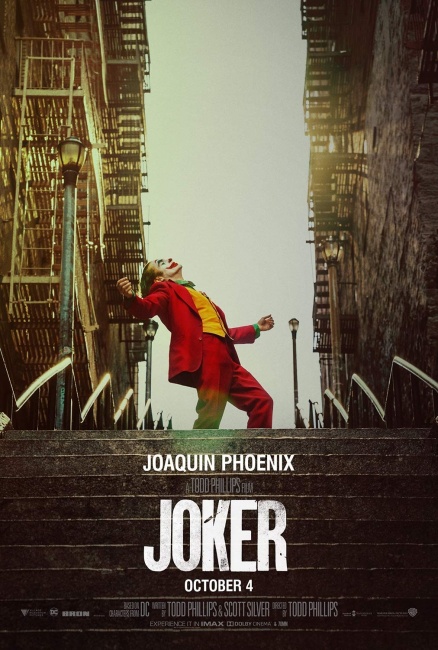 Todd Phillips'
The Joker
slipped just 43% in its second frame, earning $55 million as it easily topped the weekend box office. Meanwhile the animated
Addams Family
outpaced the Will Smith-starring
Gemini Man
. However, despite strong showings at the top of the chart, total box office revenue this weekend ended up in a virtual tie with the same frame last year when
Venom
remained at #1 with $35 million.
The Joker
managed one of the lowest first to second weekend drops in recent history, setting a new October record for "second weekends," and performing better than
Wonder Woman
(-43.3%) and
Black Panther
(-44%). In just ten days
The Joker
has earned $192.7 million here in North America, and will soon become Warner Bros.' highest grossing film of 2019 so far on the domestic side (it is already the #1 WB film of 2019 globally with $544 million—all earned without benefit of the Chinese market, where a release of the R-rated
The Joker
is not at all certain at this time).
The Joker's superb second weekend showing could be attributed to strong word-of-mouth, but warnings about potential theater shootings might well have dampened first week attendance, even while stimulating interest in
The Joker
overall. Right now it is hard to guess how
The Joker
will finish its run. It will likely surpass
Deadpool
to become the highest-grossing R-rated film, but the size of its domestic gross and the length of its run could be affected by awards nominations.
The Joker
did win the "Silver Lion" at Venice, and there is no denying the power of Joaquin Phoenix's performance— it's the kind of showy star turn that has won more than a few Oscars in the past.
The computer-animated
The Addams Family
ushered in the Halloween season with a stronger-than-expected $30.29 million. Produced for about $50 million,
The Addams Family
should have the market to itself over the next few weeks. Opening weekend audiences, which skewed heavily female (59%) and younger with 58% under 17, gave
The Addams Family
a solid "B+" CinemaScore.
Ang Lee's
Gemini Man
stars Will Smith as an assassin who has to do battle with a younger cloned version of himself. Shot in 3D at an advanced frame rate, this sci-fi/action project, which has been around since the 1990s with various stars and directors attached, has so far attracted attention mostly for the uncanny computer-generated "younger" version of Smith.
With production costs reportedly in the vicinity of $140 million,
Gemini Man
is off to a slow start, earning just an estimated $20.5 million from 3,642 locations. The opening weekend audience for
Gemini Man
skewed male (56%)--which means it was competing directly with
The Joker
, a partial explanation at least for its lackluster debut. 53% of the
Gemini Man
ticket buyers were under 30, and they gave the film a "B+" CinemaScore, which should provide some hope.
Here in North America
Gemini Man
attracted a diverse audience that was 39% Caucasian, 26% African-American, 22% Hispanic, and 13% Asian/Others. Overseas the film is now open in 58 countries, and has earned just about $40 million. To break even it will have to do very well in China.
Weekend Box Office (Studio Estimates): October 11-13, 2019

Film

Weekend Gross

Screens

Avg./Screen

Total Gross

Wk#

1

Joker

$55,000,000

4,374

$12,574

$192,728,787

2

2

The Addams Family

$30,298,000

4,007

$7,561

$30,298,000

1

3

Gemini Man

$20,500,000

3,642

$5,629

$20,500,000

1

4

Abominable

$6,170,000

3,496

$1,765

$47,971,350

3

5

Downton Abbey

$4,900,000

3,019

$1,623

$82,687,590

4

6

Hustlers

$3,850,000

2,357

$1,633

$98,015,339

5

7

Judy

$3,255,353

1,627

$2,001

$14,974,204

3

8

It: Chapter Two

$3,225,000

2,303

$1,400

$207,135,424

6

9

Jexi

$3,100,000

2,332

$1,329

$3,100,000

1

10

Ad Astra

$1,947,000

1,678

$1,160

$47,035,432

4
The animated Yeti adventure Abominable took the #4 spot, but earned just $6.2 million, bringing its North American total to almost $48 million. With a production cost of $75 million, Abominable, which has total worldwide earnings of about $108 million, still has a long way to go to reach profitability.

That is not the case for the TV-based Downton Abbey film, which has earned almost $83 million here, and $152 million worldwide against a cost reported at just about $25 million.

This week's other new release, the comedy Jexi, bombed, debuting in ninth place with just $3.1 million.

Debuting in just three theaters, the Palme d'Or winner from Cannes, Bong June Ho's Parasite, posted the best per-venue total of 2019 so far, earning an average of $125, 421 from each theater. Parasite will likely be a contender at the Oscars this year.

Be sure to check back here next week to see what happens when Disney's Maleficent: Mistress of Evil (3700 theaters), and Sony's Zombieland 2: Double Tap (3400 venues) challenge The Joker, while Oscar candidate Jojo Rabbit and Robert Eggers' black and white horror film The Lighthouse both bow in limited release.