Papercutz has acquired the U.S. publishing rights for the worldwide bestselling bande dessinee Asterix, the company announced today, 60 years after the first appearance of the property in October 1959. Papercutz will roll out its publishing program with editions specific to the U.S. market, beginning in May 2020. The American editions published by Papercutz will feature new translations in American English.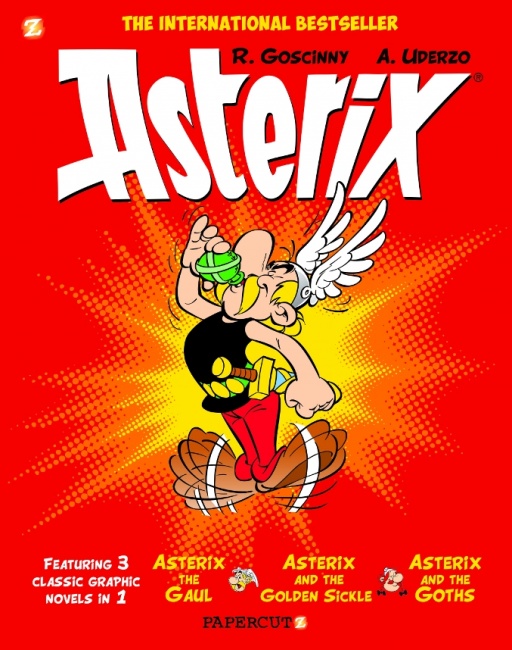 Papercutz will publish the new translations of the entire series in omnibus editions over the next few years; new material will be published in hardcover volumes every two years.
On May 19, 2020, Papercutz will release the first two omnibus editions, each with three volumes worth of stories. Asterix Omnibus Volumes 1 and 2 will be in 7.5" x 9.5" hardcover format, each with 160 pages at $22.99, and in paperback at $14.99 each. Volume 1 will collect Asterix The Gaul, Asterix and The Golden Sickle, and Asterix and The Goths. Volume 2 will collect Asterix The Gladiator, Asterix and The Banquet, and Asterix and Cleopatra.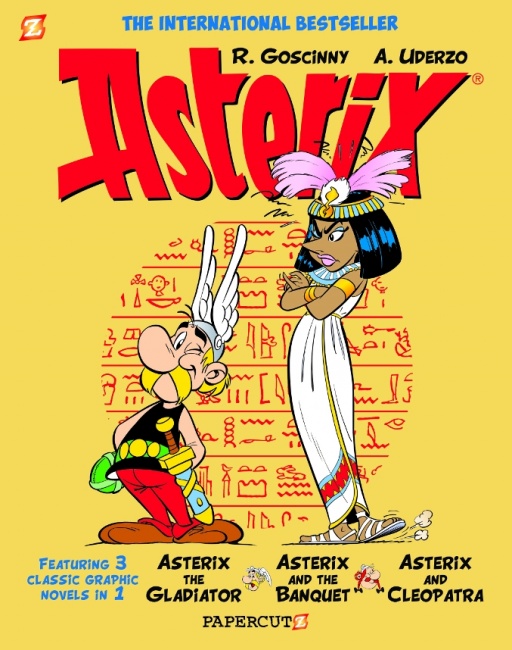 Four omnibus volumes will be released each year for the next 3+ years.
Also in May 2020, Papercutz will release the latest volume, Asterix Volume 38: The Chieftain's Daughter, in a 48-page 7.5" x 9.5" hardcover at $9.99. New volumes will be published in this format every two years.
Papercutz Publisher Terry Nantier emphasized the American-ization of the new editions. "Papercutz is thrilled for this opportunity to bring the world's bestselling series to America with a true push here for the first time," he said, "and the all-new more American translations, as well as our redesign of the books (new covers and new format) will make this series relevant to our American audience."
Managing director Celeste Suruge of rights holder Les Editions Albert Rene also noted the new American editions. "I am delighted to collaborate with Papercutz, a fantastic and clever comics publisher, to have for the first time ever the full Asterix collection released on the US market in a specific American edition," he said.
The series was created by Rene Goscinny and Alberto Uderzo, editor and artistic director of Pilote magazine, in 1959. They co-created 24 volumes through 1977, when Goscinny passed away. Uderzo created 10 volumes on his own until he retired from writing in drawing in 2011. New volumes under Uderzo's supervision are being created by Jean-Yves Ferri and Didier Conrad.