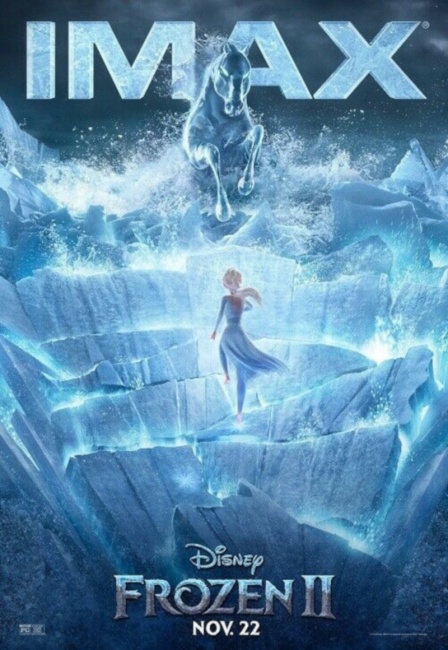 Disney's animated musical sequel Frozen II blew away previous Thanksgiving records, dropping just 34.6% as it earned an estimated $85.2 million over the 3-day weekend to drive its ten-day domestic total to $287 million. But that wasn't the whole box office story this weekend as Rian Johnson's old school murder mystery
Knives Out
more than doubled most analysts' forecasts with a stunning $42 million debut, while the third new film, the modestly-budgeted
Queen and Slim
earned $15.9 million from under 1,700 theaters.
After posting weak performances throughout November the box office saw a 36% increase over the same frame a year ago when
Ralph Breaks the Internet
topped the charts for the second weekend in a row with $25.6 million. This week's strong showing lowered 2019's deficit from 2018's record pace from 7% to about 5.7%.
Frozen II
easily topped the previous 3 and 5-day records for the Thanksgiving holiday with a 5-day total currently estimated at $123.7 million versus the previous record of $109.9 million attained by
The Hunger Games: Catching Fire
back in 2013. In spite of the fact that the original
Frozen
debuted on the Wednesday before Thanksgiving,
Frozen II
also easily topped
Frozen's
$93.3 million 5-day debut, even though
Frozen II
is now in its second weekend in theaters.
Frozen II's
34.6% drop is also the second lowest ever decline for a film that opened over $100 million, trailing only
Shrek 2's
33% drop in 2004. In addition
Frozen II
posted the biggest non-opening weekend ever for an animated film as well as the eighth best non-opening weekend ever (not adjusting for inflation).
In addition to its strong domestic performance
Frozen II
is doing well overseas where it earned an additional $163.8 million for a current overseas total of $451 million. With a 10-day global haul of $738.6 million,
Frozen II
is a shoe-in to become the next Disney film in the "Billion Dollar" club.
Frozen II
has already skated past the lifetime gross of the original
Frozen
in eleven overseas markets including China, where it has racked up $90.5 million so far.
But the big surprise of the weekend was not
Frozen II's
expected juggernaut-like showing, it was the debut of Rian Johnson's old-school murder mystery drama,
Knives Out
, which earned almost $42 million 5-day debut in the domestic market, which was roughly twice what most analysts were predicting for the socially-incisive,
Clue-
like whodunit.
Knives Out
is the sort of star-studded ensemble murder mystery that was supposed to be obsolete in this era of "Netflix and chill" when TV and movie adaptations of the entire oeuvre of Agatha Christie are available from various streaming services, but Lionsgate did a good job with sneak previews and a TV ad campaign that brought out the adult-skewing audience the film was targeting.
Opening weekend audiences enjoyed
Knives Out
, giving the film an "A-" CinemaScore, which coupled with the 96% fresh rating on review aggregator Rotten Tomatoes should translate to great word-of-mouth and a long run at the box office. With its black humor and scathing look at the "wealthy,"
Knives Out
appears to have been writer/director Johnson's attempt make the old school murder mystery genre relevant again, something akin to what Jordan Peele has done with the horror genre with
Get Out
and
Us
.
Knives Out
attracted a crowd that skewed just slightly male (51%) and older with 68% over 25, and 46% over 35.
Weekend Box Office (Studio Estimates): November 29 - December 1, 2019

Film

Weekend Gross

Screens

Avg./Screen

Total Gross

Wk#

1

Frozen II

$85,250,000

4,440

$19,200

$287,573,344

2

2

Knives Out

$27,022,000

3,461

$7,807

$41,700,000

1

3

Ford v Ferrari

$13,221,000

3,585

$3,687

$81,003,779

3

4

A Beautiful Day in the Neighborhood

$11,800,000

3,235

$3,647

$34,313,989

2

5

Queen & Slim

$11,700,000

1,690

$6,923

$15,810,000

1

6

21 Bridges

$5,820,000

2,665

$2,183

$19,459,419

2

7

Playing with Fire

$4,200,000

2,679

$1,567

$39,203,808

4

8

Midway

$3,957,000

2,375

$1,666

$50,278,625

4

9

Joker

$2,030,000

1,146

$1,771

$330,601,522

9

10

Last Christmas

$1,980,000

1,852

$1,069

$31,658,680

4
Two other adult-skewing dramas took the third and fourth spots thanks to tiny drops, with the racing drama Ford vs. Ferrari sliding just 17% as it earned $19 million over the 5-day holiday to drive its domestic total to $81 million, while the Tom Hanks-starring A Beautiful Day in the Neighborhood slipped just 11% in its second weekend as it earned $11.8 million to drive its ten-day domestic total to $34.3 million.

The fifth spot went to Queen and Slim, a $20 million action film about an African-American couple on a first date, who have to take it on the lam after a traffic stop takes a horrific, though entirely believable turn. Music video director Melina Matsoukas makes her feature film debut with Queen and Slim, which earned $15.9 million over the five day holiday despite being in only 1,690 theaters. The R-rated drama, which stars Daniel Kaluuya and Jodie Turner-Smith, earned a solid "A-" CinemaScore from audiences that skewed female (54%) and younger (for an R-rated film) with 60% of the crowd between 18 and 34.

The bottom half of the top ten, led by the action film 21 Bridges, which dropped 37.2% while earning $5.8 million, suffered small declines from already modest totals. Todd Phillps' The Joker remained in the top ten for the ninth week as it earned $2 million to bring its domestic total to $330 million, which is more (not adjusted) than the heavyweights of the DCU earned in Batman vs. Superman: Dawn of Justice. Soon The Joker will cackle its way past Aquaman ($335 million) to become DC's second biggest domestic grosser, trailing only Patty Jenkins' Wonder Woman.

Be sure to check back here next week to see how this current lineup of films fares in the first full weekend of December—the only new release is the animated Playmobil, a French film based on the German building toy Playmobil.