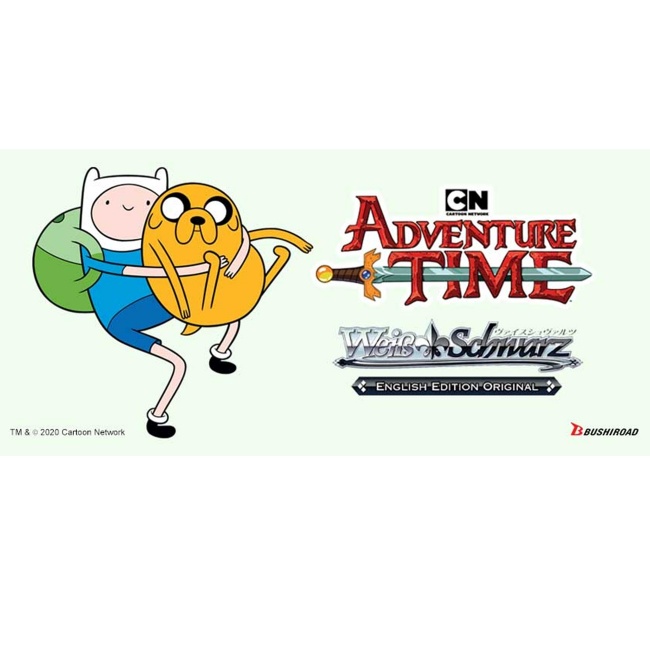 Bushiroad will release
Adventure Time
Trial Deck+, Booster Pack, and Supply Set for
Weiss Schwarz
on July 30.
Players can relive the adventures of Finn the Human and Jake the Dog in the Land of Ooo from the hit animation series from Cartoon Network. The Trial Deck+ features Parallel cards as random inserts into deck with every deck contain two shiny cards. There are 20 types of cards and 7 Parallels with 50 cards per deck and 6 decks to a display. The Trial Deck+ will retail for $17.00.
Booster Packs will feature 100 types of cards plus Parallels, and will come with 8 cards per pack and 20 packs per display. Display boxes will contain one of four exclusive PR cards in every box, and cartons come with four rubber playmats! Individual Booster Packs will retail for $3.80.
Alongside the Trial Deck+ and Booster Pack, they will release a WSE Adventure Time Supply Set. This set comes with a deck case, a pack of 60-sleeves, and 5 Booster Packs (Parallel TDB). Supply Sets will carry a MSRP of $32.00.
Bushiroad will also release Weiss Schwarz Booster Pack - JoJo's Bizarre Adventure: Golden Wind and the Weiss Schwarz Trial Deck+ - JoJo's Bizarre Adventure: Golden Wind in late March (see "'Weiss Schwarz' Goes On 'JoJo's Bizarre Adventure'").