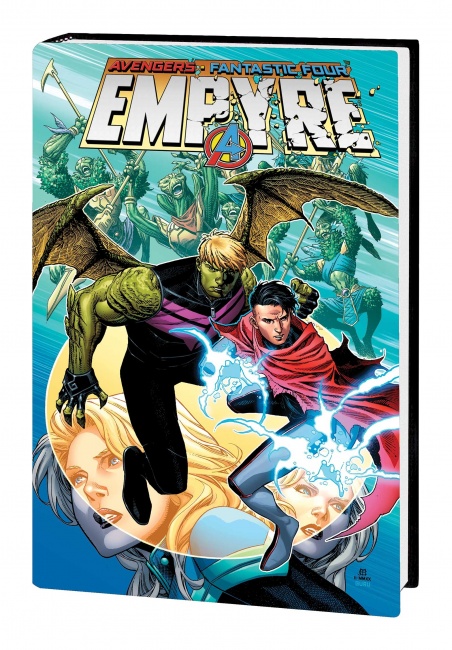 Marvel Comics announced
Empyre Omnibus HC
, a 1088-page volume containing the comics from the
Empyre
event, which will release on April 28, 2021.
Emprye was the Marvel event of 2020 (see " Preview: Covers for 'Empyre' and Tie-Ins plus Teasers"), and it's now headed to trade in omnibus form, only a short time after the conclusion of the release of the comics, which was disrupted by the COVID-19 pandemic. This volume recounts the tale of how the Kree and Skrull races united under one emperor and attacked Earth. This created a three-way global battle between Earth's heroes, the unified Kree/Skrull, and an unseen alien force. It collects Incoming #1; Road to Empyre: The Kree/Skrull War; Empyre #0: Avengers; Empyre #0: Fantastic Four; Empyre #1-6; Empyre Aftermath: Avengers; Empyre Fallout: Fantastic Four; Empyre: X-Men #1-4; Lords of Empyre: Emperor Hulkling, Celestial Messiah and Swordsman; Empyre: Savage Avengers; Empyre: Captain America #1-3; Empyre: Avengers #1-3; X-Men (2019) #10-11; Fantastic Four (2018) #21-23; Captain Marvel (2019) #18-21; Immortal She-Hulk #1; Web of Venom: Empyre's End; Black Panther and The Agents of Wakanda #7-8; and Empyre Handbook.
This omnibus will feature two covers, both done by Jim Cheung. The book channel cover will feature Avengers/Fantastic Four, and the direct market cover will feature Hulking/Wiccan. The hardcover volume will retail for $125.00.
Click on Gallery below for full-size images!