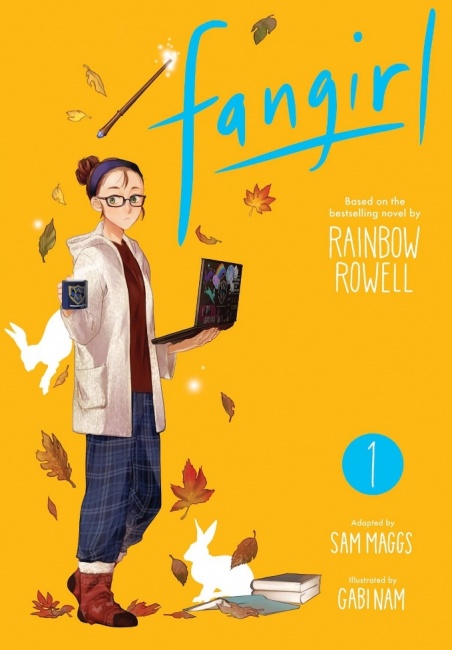 Fangirl Vol. 1 TP
Publisher: VIZ Media
Release Date: October 14, 2020
Price: $16.99
Creator(s): Rainbow Rowell (original novel); Sam Maggs (adaptor); Gabi Nam (artist)
Format: 216 pgs., Black & White, 5.75"x8.25", Trade Paperback
ISBN: 978-1-974-71587-9
Age Rating: Older Teen
ICv2 Rating: 4.5 Stars out of 5
This is an outstanding adaptation of an excellent novel. I came away from it asking only one question: why was it formatted as a manga? I assume that the publisher, known mainly for importing material from Japan and translating it, thought that would be better suited to the intended audience, but I'm not sure.
Still, Sam Maggs, who has written both prose and comics and is quite good at both, and she has done an excellent job of converting this story into graphic form. Gabi Nam is new to English-language graphic novels, but is an experienced artist in Korea.
Rowell's novel is about a pair of sisters going off to college, identical twins with very different plans for life. Wren wants to change and do things separately, but Cath was not really ready for that, and this difference stresses her a great deal. In addition, the two of them have been fan fiction writers for a long time, but Wren has moved away from that, while Cath has thousands of fan readers. Her greatest success has been a "slash" fiction series based on a sort of J.K. Rowling-esque series. [If you haven't heard the term before, "slash" fiction is traditionally a gay reworking of a traditional fictional pair, from books, TV or movies, such as envisioning Kirk/Spock as a couple. Originally, this form of fan fiction was written largely by women and girls.
In any case, Cath's love of writing is serious, and she wants to use the skills she has been developing to write more, perhaps professionally, so she's in college to learn more about her craft, while Wren seems to be there to learn how to party. Their father, a moderate distance away, is apparently a bipolar advertising writer, who somehow barely makes it through life.
This adaptation, set to be four volumes, is outstanding, but may be a tiny bit easier to understand if you know fan fiction as presented in the original novel. At the very least, the relationship between the fan fiction characters makes more sense in the original novel, but that's a minor flaw. Overall, I think the intended audience will really enjoy this book and the remaining parts of the series, and it may be one of those that creates a demand for more work by Rainbow Rowell, who has written both excellent prose and graphic novels.
--
Nick Smith: Library Technician, Community Services, for the Pasadena Public Library in California.