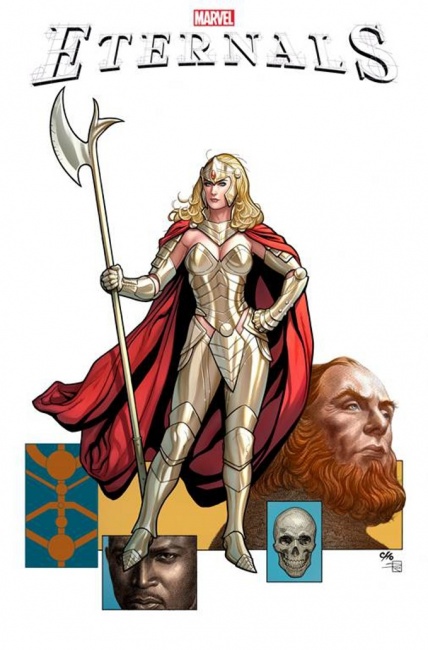 Publisher Description
: The Eternals team up with the Marvel Universe on showstopping covers featuring art by Art Adams, Jenny Frison, Greg Land, John Romita, Jr. and more!
Creators Kieron Gillen (
The Wicked + The Divine
,
Uncanny X-Men
,
Thor
) and Esad Ribić (
Secret Wars
,
King Thor
) join forces this January to redefine one of Marvel's most fascinating mythologies in
Eternals
#1. Readers will experience Jack Kirby's classic creation in an epic saga that will enthrall both longtime fans of the Eternals and those experiencing this enigmatic heroes for the first time. Celebrate the grand return of these iconic characters with stunning variant covers by some of Marvel's most popular artists, featuring the most prominent Eternals characters side by side with your favorite Marvel heroes!
Phastos and Thor smash their way to glory on Art Adam's explosive cover while Ikaris soars to new heights with Captain Marvel on Jenny Frison's cover. Lightning strikes on Khary Randolph's cover featuring Storm and Sersi and it's clobberin' time with the Thing and Thena on Greg Land's previously revealed cover. Also, check out the Eternals battle their way through an army of Deviants on John Romita Jr.'s epic Hidden Gem cover. Behold these glorious covers below and keep your eyes peeled for more
Eternals
#1 cover reveals coming your way!
Eternals #1
Written by Kieron Gillen
Art and cover by Esad Ribić
On Sale: January 6, 2021
SRP: $4.99
Variant covers with cover art released so far:
Variant Cover by Art Adams (SEP200569)
Variant Cover by Khary Randolph (SEP200586)
Variant Cover by Greg Land (SEP200595)
Variant Cover by Frank Cho (SEP2000600)
Variant Cover by Ron Lim (SEP200591)
Variant Cover by Alex Ross (SEP200566)
Variant Cover by Superlog (SEP200593)
Variant Cover (1:50) by Peach Momoko (SEP200567)
Variant Cover (1:50) by Boss Logic (SEP200572)
Variant Cover (1:100) by Jenny Frison (SEP200577)
Hidden Gem Variant Cover (1:50) by John Romita Jr. (SEP200582)
Hidden Gem Variant Cover (1:100) by Jack Kirby (SEP200583)

Click on Gallery below to see full-sized images.