Daiyu will launch Gate Ruler, a new trading card game from designer Yoshimasa Ikeda (who designed Future Card Buddyfight for Bushiroad, see "Interview with Bushiroad CEO and FCB Designer"), on April 30.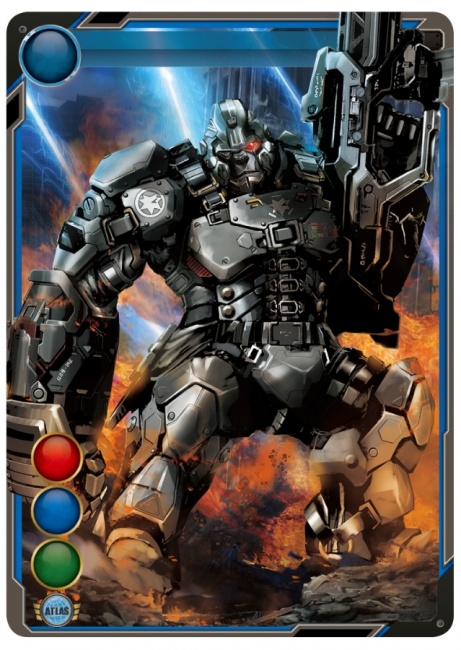 In a world dominated by majestic dragons, giant robots, monsters of folklore, superheroes and more, the game of
Gate Ruler
is based on the "Ruler" mechanic. Each deck includes a Ruler card, and each Ruler card features unique rules that will dictate how the deck and game will play. Units representing the various creatures of the world are used to attack opposing Rulers, as well as defend your own. The game ends when either players' deck has no cards left or the opposing player has a number of cards in their Damage Zone equal to their Ruler's life total. (Note: an earlier version of this article said that Force of Will is releasing this game. That was incorrect, the publisher is Daiyu. We apologize for the error.)
Gate Ruler: Dawn of the Multiverse Alliance
is the first English booster set for the game. It will feature over 133 types of cards, including 6 Legend Rares. Each booster pack of
Dawn of the Multiverse Alliance
contains 10 cards, with each display box containing 36 packs. Display boxes will also include a Buy-a-Box Promo Card. Each carton contains 6 displays.
Daiyu will release two starter decks alongside the booster set release. Gate
Ruler: Giant Mechs & Yokai in Space! Starter Deck
includes a 51-card deck (featuring 17 kinds of cards), a rule sheet, and playmat.
Gate Ruler: Summon the Fell Dragons! Starter Deck
includes a 54-card deck (featuring 18 kinds of cards), a rule sheet, and a playmat. Cartons will contain 10 decks.
Click Gallery below for art from Gate Ruler!