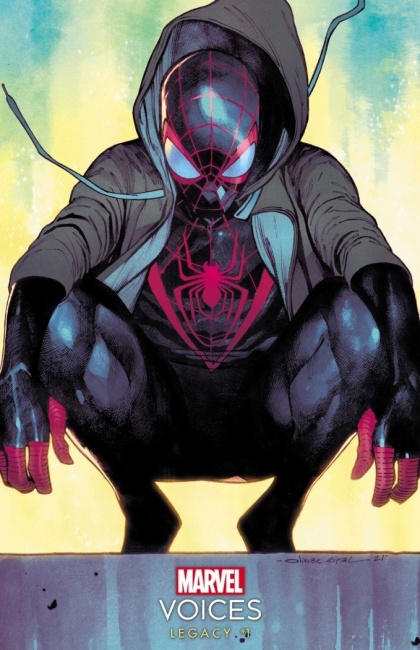 Publisher Description
. Next month, Marvel Comics will celebrate Black History Month with
Marvel's Voices: Legacy
#1. In addition to the all-star list of creators contributing to the issue,
Marvel's Voices: Legacy
#1 will also have a stunning collection of variant covers by some of the industry's biggest talents. Marvel's "Stormbreaker" Natacha Bustos, Olivier Coipel, Ejiwa "Edge" Ebenebe, Ken Lashley, and Ernanda Souza honor Marvel's legacy of Black heroes in incredible depictions of iconic characters such as Storm, Shuri, Black Panther, Monica Rambeau, and many more.
Marvel's Voices: Legacy
#1 will consist of seven thrilling tales plus an introduction by
New York Times
best-selling author Nic Stone (
Shuri: A Black Panther Novel
). Eisner Award-winning writer Nnedi Okorafor (
Shuri
) pens a Venom story highlighting the importance of heroes who fight for the downtrodden. Explore Blade's legacy – vampiric and heroic – in a story by writer Danny Lore (
2020 Ironheart
). And in their exciting Marvel Comics debuts, Ho Che Anderson (
King
) brings Luke Cage fans an old-school story about the choices that make a hero, author Tochi Onyebuchi (
Beasts Made of Night
,
War Girls
) tells an action-packed tale of a wild night in Madripoor with Domino, writer Stephanie Williams highlights family in a light-hearted Monica Rambeau story, and Marvel's most promising young heroes—Ironheart, Ms. Marvel, and Shuri— team up for an adventure by award-winning novelist Mohale Mashigo (
The Yearning
). Lastly, Academy Award winning screenwriter John Ridley closes out this epic issue with a poignant look at the impact of Miles Morales. See these outstanding writers take on their favorite heroes in tales designed to inspire and uplift, featuring interior art by ChrisCross, Valentine De Landro, Sean Damien Hill, Ken Lashley, Natacha Bustos, Chris Allen, and Olivier Coipel.
On sale at your local comic book store on February 24th! Cover price: $4.99.
Marvel's Voices: Legacy #1 (DEC200562)
Written by Stephanie Williams, Ho Che Anderson, Danny Lore, Nnedi Okorafor, Tochi Onyebuchi, Mohale Mashigo, and John Ridley
Art by Natacha Bustos, Sean Damien Hill, Valentine De Landro, Chriscross, Ken Lashley, Chris Allen, and Olivier Coipel
Covers by:
Main Cover by Taurin Clarke (DEC200562)
Stormbreakers Variant Cover by Natacha Bustos (DEC200564)
Variant Cover by Olivier Coipel (OCT209084)
Variant Cover by Edge (DEC200565)
Variant Cover by Ken Lashley (DEC200566)
Variant Cover by Ernanda Souza (DEC200563)
Click on Gallery below to see full-sized images.