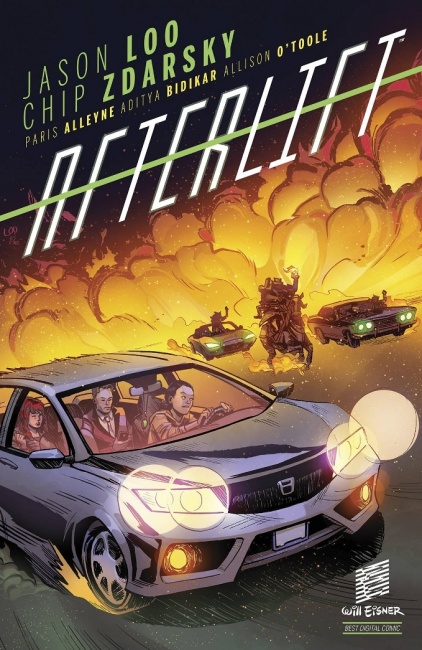 Afterlift TP
Publisher: Dark Horse Comics
Release Date: February 3, 2021
Price: $19.99
Creator(s): Chip Zdarsky (writer); Jason Loo (artist)
Format: 136 pgs., Full-Color, 6.64" x 10.2", Trade Paperback
ISBN: 978-1-5067-2440-9
Age Rating: N/A
ICv2 Rating: 4 Stars out of 5
This is a strange tale of damnation and redemption, involving an app-based driver being dragged into a plot about heaven, hell and purgatory. For the most part, it works very well, and the main character is outstanding, as are some of the peripheral ones. Oddly, the weaknesses in the story all come from the most dramatic of the bad guys, who are in theory all demons of one sort or another. The thing is, if these are demons, then nobody else is in any danger. Think of them as Keystone cops, but evil. That makes them hard to take seriously, because they seem to be more of a threat to each other than to anyone else, including the souls of the potentially damned.
The artwork is outstanding. Jason Loo has taken some truly bizarre ideas about the real world and multiple other realities, and found ways to draw them, all centered on a young driver and her understanding of both. Even the violations of the laws of physics that are caused by the use of magic have a certain consistency to the way they work. The fights and chase scenes, in particular, are well-executed and keep the reader turning pages.
There is even an aspect of the story that focuses on philosophy and religions in ways that were not obvious at the start, since it seems to focus on a very Judeo-Christian universe and afterlife at first, but it doesn't stay entirely that way.
While written for adults, the story could probably be read by older teens without damaging their immortal souls.
--
Nick Smith: Library Technician, Community Services, for the Pasadena Public Library in California.