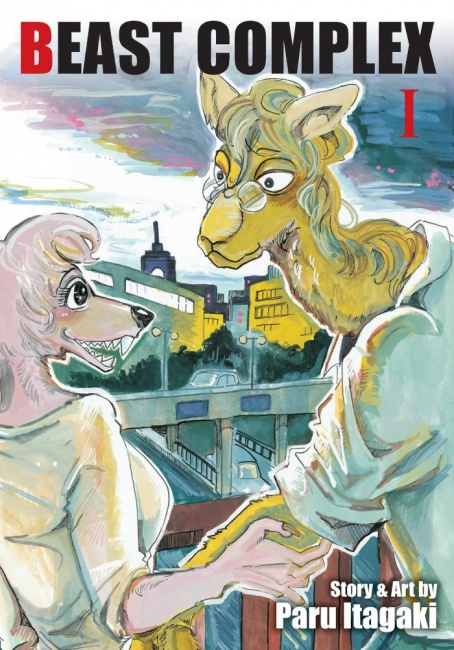 Beast Complex Vol. 1 TP
Publisher: VIZ Signature
Release Date: March 17, 2021
Price: $12.99
Creator: Paru Itagak (Story and Art)
Format: 200 pgs., Black & White, 5.75" x 8.25", Trade Paperback
ISBN: 978-1-9747-2121-4
Age Rating: Older Teen
ICv2 Rating: 3 Stars out of 5
This book simply has come out too soon. The creator's manga series, Beastars, is establishing her as a very good manga creator, but this early work, only a few years old, is about two-thirds at the level of a talented amateur artist. The latter third, which was created after she had worked on Beastars for a while, is better drawn, making the earlier stuff look even worse. Perhaps a retrospective of early work should wait a bit longer than five years or less?

Oddly, what carries this volume is the writing of the stories. That is very good even in the early work. Set in the same world as Beastars, the stories are well thought-out in terms of dealing with issues of anthropomorphic carnivores and herbivores sharing an urban setting. Laws and rules prevent the carnivores from just running wild and killing the herbivores, but things are still uneasy.

It's a little creepy that the bigger carnivores have to submit to drugging to keep them from being "dangerous," and I suspect that this was supposed to make us take a look at the way we look at "the other" in our own world. Still, it's creepy. So was the story about the young panther staying in the seedy hotel, and I'm not sure that the part about what she was carrying could work. Still, as an analogy to criminal drug smuggling, it was interesting.

Fans of Beastars may enjoy it, or be disappointed by the rough early art. If they stick around to read the stories, though, they will enjoy what's here. The age rating is for some brutal violence and probably for some other "bad behavior" bits.

--Nick Smith: Library Technician, Community Services, for the Pasadena Public Library in California.