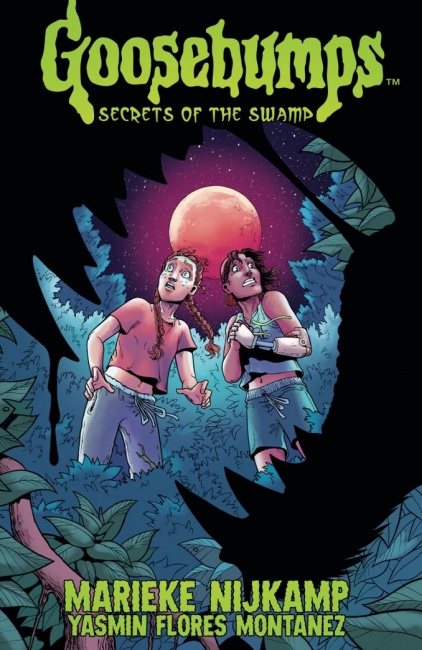 Goosebumps: Secrets of the Swamp TP
Publisher: IDW Publishing
Release Date: May 4, 2021
Cover Price: $12.99
Writer: Marieke Nijkamp
Artist: Yasmin Flores Montanez
Cover: Yasmin Flores Montanez
Format: 120 pgs., Full-Color, 6"x9", Trade Paperback
ISBN: ISBN 978-1-68405-813-6
Publisher Description
:
Goosebumps
—the beloved, long-running children's horror series first published by Scholastic in 1992—expands its world with the May 4th release of
Goosebumps: Secrets of the Swamp
, a middle grade graphic novel by
New York Times
bestselling author Marieke Nijkamp (
This Is Where It Ends
,
Before I Let Go
,
The Oracle Code
) and artist Yasmin Flores Montanez (
Marvel Action: Captain Marvel
,
Tilly
), published by IDW Publishing.
Secrets of the Swamp
introduces twelve-year-old Blake, an avid gamer who never lets anything—tough opponents, her prosthetic hand, nothing—slow her down. When she's shipped away to her weird aunt's home in Fever Swamp, Blake expects a summer of endless boredom… but stumbles upon a spooky turf war between wolf hunters and werewolves instead! With real-life monsters on all sides, she's about to face danger and fear on a whole new level!
Click Gallery below for full-size images.