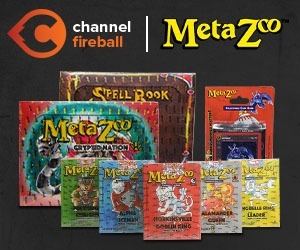 Sponsored
. Last month, ChannelFireball announced their collaboration with the new hit trading card game
MetaZoo
. With the formation of this exciting new partnership, ChannelFireball is eager to get
MetaZoo
into the hands of local game stores around the nation. As their first initiative, ChannelFireball is offering the exclusive sale of a
MetaZoo Cryptid Nation Bundle
to BinderPOS Retailers in the United States and Canada.
Each Cryptid Nation Bundle is priced at $399 + shipping and will contain:
4 - 1st Edition Cryptid Nation Booster Boxes
4 - 1st Edition Cryptid Nation Blister Packs
2 - 1st Edition Cryptid Nation Spellbooks
1 - Set of Five 1st Edition Cryptid Nation Theme Decks
4 - 1st Edition Cryptid Nation Release Boxes
4 - 1st Edition Cryptid Nation Release Promos
Please take note that supply is extremely limited and bundles will be allocated.

BinderPOS is the platform leader in the gaming industry. Their point-of-sale system allows all retailers to sell a wide range of products to customers around the world. The collaboration between ChannelFireball and BinderPOS has led to both companies taking massive steps in the TCG industry today, including the launch of their upcoming collectibles marketplace.

MetaZoo is a new addition to the Trading Card Game market and has quickly become a hot commodity. With all the buzz the game has created, MetaZoo pre-orders from traditional distribution channels have already sold out. ChannelFireball is committed to supporting retailers in the industry and bringing this sought-after game to BinderPOS retailers. This collaboration with MetaZoo allows ChannelFireball to put Cryptid Nation in the hands of retailers, and the BinderPOS platform is the perfect place to feature this product.

If you have not signed up already, make sure you do by June 24 to qualify for this amazing offer. You can sign up here, to learn more about BinderPOS and all the exclusive benefits and deals you don't want to miss out on!