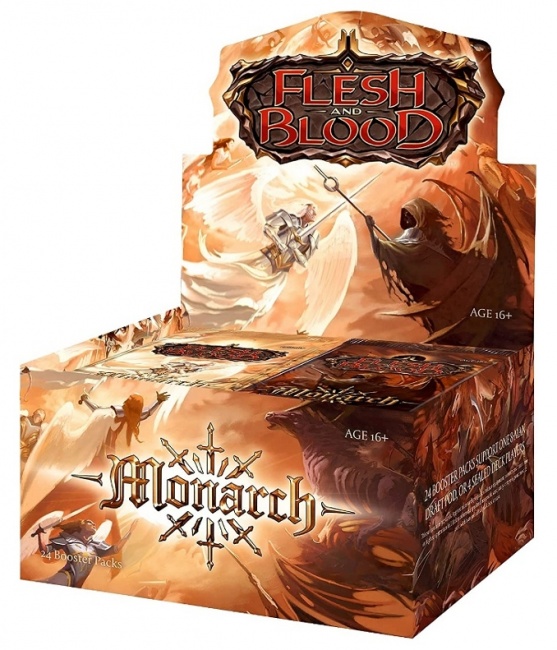 Flesh and Blood's
Monarch Booster Box 1st Edition
topped aftermarket sales of sealed TCG products in May, according to the TCGplayer chart of the Top 25 sealed TCG Products. It ranks the most active products on the TCGplayer platform by dollar volume, and shows the beginning and ending prices of each product.
Pokemon TCG
was the most active brand, with nine of the top 25 slots; followed closely by
Magic: The Gathering
, with eight. There were four
Yu-Gi-Oh! TCG
products in the top 25 sealed products in May, along with products from another three games. With seven games represented in the chart over-all, the trend toward more products being represented among the top sellers continued.
This chart is based on sales on the TCGplayer platform, the largest marketplace in the U.S. for collectible card games including
Magic: The Gathering, Pokemon, Yu-Gi-Oh!
and other card games and supplies. TCGplayer provides inventory management and fulfillment services to retailers.
TCGplayer Top 25 Sealed TCG Products - May 2021 (via ICv2)

Rank

Product

Product Brand

Set Name

Month Start Market $

Month End Market $

1

Monarch Booster Box 1st Edition

Flesh And Blood

Monarch

$446.96

$386.95

2

Modern Horizons 2 Set Booster Display

Magic

Modern Horizons 2

$292.94

$266.66

3

Modern Horizons 2 Collector Booster Display

Magic

Modern Horizons 2

$359.79

$409.72

4

Chilling Reign Booster Box

Pokemon

SWSH06 Chilling Reign

$161.51

$140.37

5

Modern Horizons 2 Draft Booster Box

Magic

Modern Horizons 2

$277.49

$294.95

6

Battle Styles Booster Box

Pokemon

SWSH05 Battle Styles

$164.58

$92.41

7

Ghosts From the Past Box Display 1st Edition

Yu-Gi-Oh!

Ghosts From the Past

$118.26

$112.78

8

Supreme Rivalry Booster Box

Dragon Ball Super

Supreme Rivalry

$127.70

$108.77

9

Vivid Voltage Booster Box

Pokemon

SWSH04 Vivid Voltage

$233.99

$188.16

10

Ancient Guardians Booster Box 1st Edition

Yu-Gi-Oh!

Ancient Guardians

$62.06

$53.33

11

Shining Fates Elite Trainer Box

Pokemon

Shining Fates

$79.01

$68.43

12

Lightning Overdrive Booster Box 1st Edition

Yu-Gi-Oh!

Lightning Overdrive

$64.60

$63.11

13

Strixhaven School of Mages Collector Booster Display

Magic

Strixhaven School of Mages

$244.85

$206.01

14

Shining Fates Booster Pack

Pokemon

Shining Fates

$6.93

$6.95

15

Ikoria Lair of Behemoths Booster Box

Magic

Ikoria Lair of Behemoths

$103.95

$99.88

16

Genesis of the Five Greats Booster Box

CFV

Genesis of the Five Greats

$49.80

$83.40

17

Commander Legends Draft Booster Box

Magic

Commander Legends

$115.52

$111.96

18

Chilling Reign Elite Trainer Box Shadow Rider Calyrex

Pokemon

SWSH06 Chilling Reign

$77.93

$59.00

19

Strixhaven School of Mages Set Booster Display

Magic

Strixhaven School of Mages

$104.78

$94.59

20

Darkness Ablaze Booster Box

Pokemon

SWSH03 Darkness Ablaze

$195.93

$184.63

21

Blazing Vortex Booster Box 1st Edition

Yu-Gi-Oh!

Blazing Vortex

$62.25

$67.85

22

Double Masters Booster Box

Magic

Double Masters

$423.96

$419.64

23

Release Special Booster Ver1.0 Booster Box

Digimon CG

Release Special Booster

$198.45

$161.04

24

XY Evolutions Booster Box

Pokemon

XY Evolutions

$939.91

$877.57

25

Battle Styles Elite Trainer Box Rapid Strike Urshifu Blue

Pokemon

SWSH05 Battle Styles

$48.24

$34.72
-