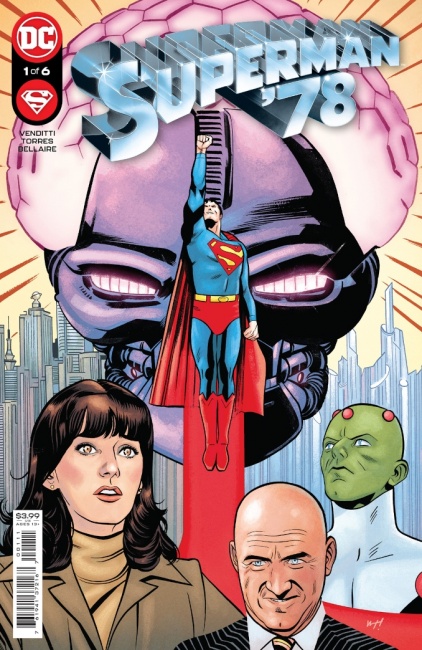 Superman '78 #1 (Of 6)
Publisher: DC Comics
Release Date: August 24, 2021
Cover Price: $3.99
Writer: Rob Venditti
Artist: Wilfredo Torres
Cover(s): Wilfredo Torres (Main), Evan "Doc" Shaner (Variant) and Wilfredo Torres (1:25 Variant).
Format: 32 pgs., Full-Color
Rating: Teen+
Publisher Description
: Beginning this fall, decades after Richard Donner and Christopher Reeve's
Superman: The Movie
introduced generations of fans to a silver screen version of DC's Man of Steel, DC returns to this beloved property to tell new stories set within this world with the publication of
Superman '78
by writer Rob Venditti (
Hawkman
) and artist Wilfredo Torres (
Batman '66
)!
In
Superman '78
, bystanders are surprised and delighted by Superman's abilities, and Lois Lane doesn't (yet!) know that Clark Kent is secretly Superman. The sheer thrill of seeing a man fly, leap, or stop a bullet will be reflected in this environment where Superman has just been introduced! Inspired by Donner's classic, timeless style of superhero storytelling, in
Superman '78
Venditti and Torres will remind fans that a man can truly fly.
Superman '78
#1 by Rob Venditti, Wilfredo Torres, Jordie Bellaire and Dave Lanphear arrives on August 24 with a main cover by Torres, plus variant covers by Evan "Doc" Shaner (open to order) and Torres (1:25).
Click Gallery below for full-size images.