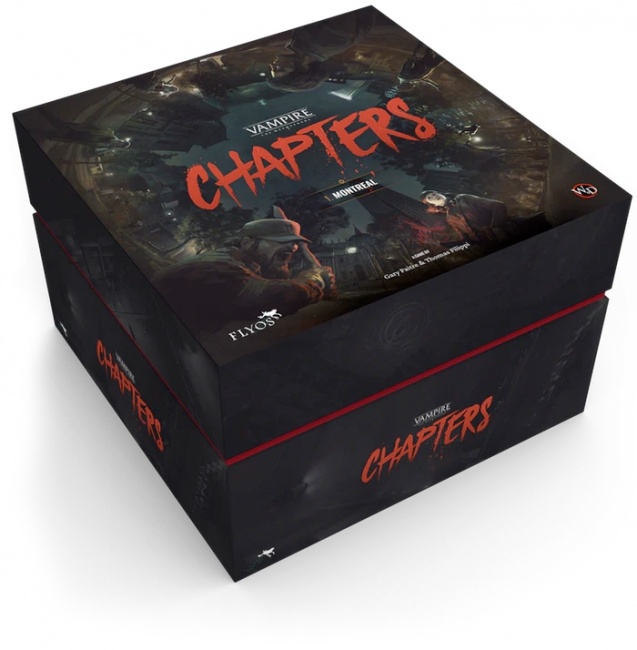 Vampire: The Masquerade – CHAPTERS
, the story-based cooperative board game from Montreal-based Flyos Games, will be available to game retailers through distribution world-wide after Kickstarter backer fulfillment is completed in Q1 2022.
Set in the World of Darkness version of Montreal, Vampire: The Masquerade – CHAPTERS was designed to offer a role-playing style experience in a board game, without requiring a game master. Each player assumes the role of a vampire, trying to deal with an old threat that has emerged from the underground following the fall of the Sabbat.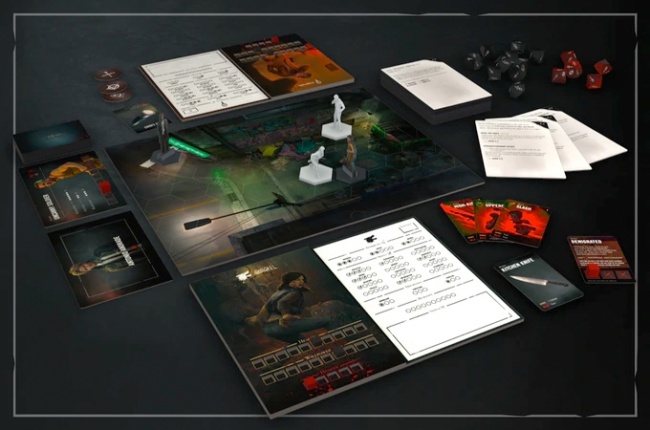 The game is played over a narrative story arc of 40 branching scenarios that can be resolved in multiple ways, from diplomacy to combat. The storyline will evolve based on the decisions of the players, and their characters will develop role-playing game style over the course of the campaign. Dialogue cards are used to resolve interaction with non-player characters, while players can investigate the city and engage in tactical combat.
Vampire: The Masquerade – CHAPTERS includes a 140-page storybook, 40 Dialogue booklets, more than 870 cards, 100 NPC standees with plastic bases, 15 dice, 40 scenario tiles, over 200 tokens, 35 tracking cubes, 8 plastic miniatures, 8 character boards, 1 sandtimer, 1 red filter mystery reader, 1 status tracker, a pad of character sheets, and 10 sealed envelopes with additional materials that are unlocked during play. MSRP has not been announced. The game is intended for 1 to 4 players, ages 18 and up, and takes about half an hour per player for each scenario. It will be available in English, French, Spanish, and German.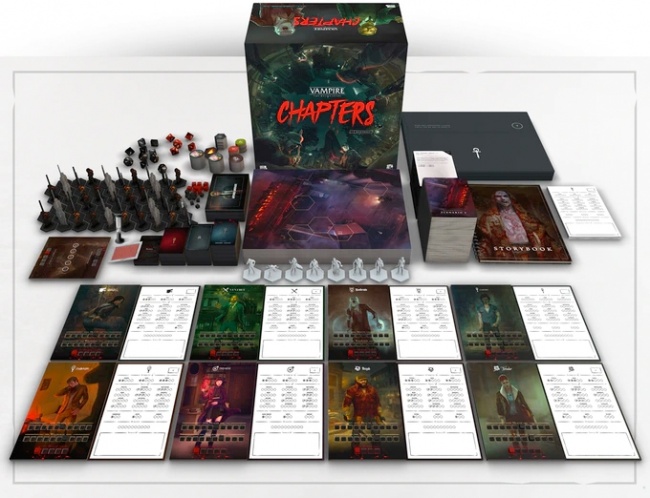 Flyos raised the funding to produce the game via a Kickstarter campaign in February of this year that raised CA$ 1,359,211 (about $1,059,340 US) from 6,149 backers (an average of about $172.28 US per backer). Originally planned for release this summer, the game has been delayed until Q1 2022. The retail version will be released after backer fulfillment is complete, and will not include any of the Kickstarter exclusive content. The game was produced under a license from Paradox Interactive.
In September, Vault Comics will launch a three-issue miniseries inspired by the World of Darkness (see "Vault to Publish 'Vampire: The Masquerade' Spinoff Comic").