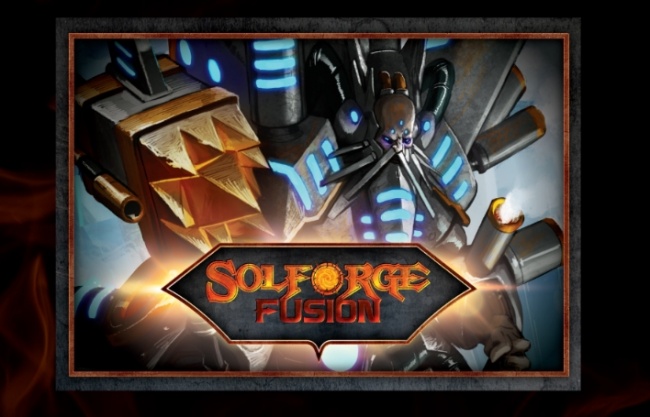 Stone Blade Entertainment announced the Kickstarter launch of
SolForge Fusion
, a new hybrid deck card game, which is scheduled to deliver in April 2022.
This game, designed by
Magic: The Gathering's
Richard Garfield and
Ascension's
Justin Gary, is a new tabletop take on the original digital
Solforge
game (see "
'Ascension' Maker Now Stone Blade
"), and features 15,000 unique cards in the Kickstarter edition. Players choose two Forgeborn from one of four factions, the Tempys, the Alloyin, the Uterra, or the Nekrium, and shuffle their algorithmically chosen cards together to create a unique deck. Then, they battle another player in a lane-based combat game until one of the two players' life total is reduced to zero. As the game progresses, players can level up their cards and unlock new powers to help them along the way.
SolForge Fusion
will be released both Starter Kits and Booster Boxes. The Retailer Tier offers confirmed brick-and-mortar stores 20 Booster Boxes, 8 Starter Kits, 8 KS Exclusive Dice Tins & Dice sets as well as access to their organized play program and exclusive discounts on future releases. Retailer pledges start at $440. As of the publication of this article, the campaign for this game has raised $49,217 of a $20,000 goal with 425 backers ($115 per backer) and 23 days to go.