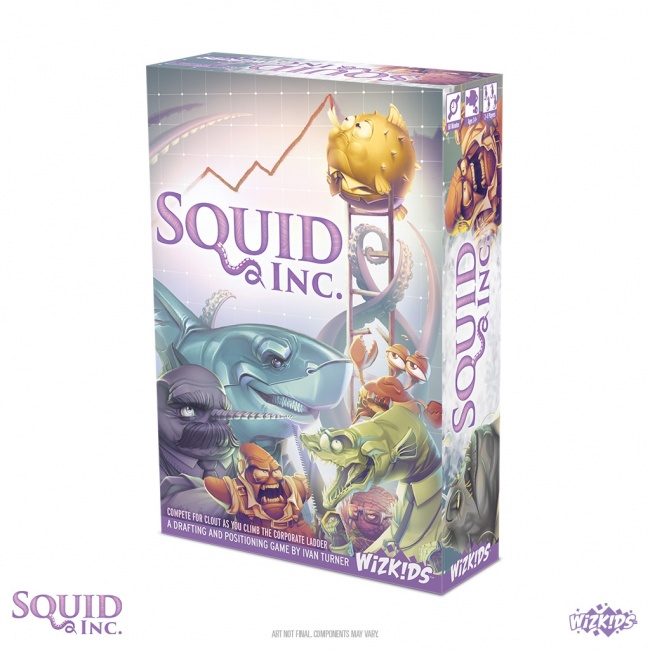 Next April, WizKids will launch
Squid Inc.
, a game about office politics in the ocean's largest corporation.
In Squid Inc., players try to ascend the corporate ladder by creatively hiring prospective employees and using their abilities to arrange promotions or sabotage the efforts of their rivals. Players take turns choosing employees and then using their clout to place them in positions, power up their abilities, and earn promotions. They can also use opportunities to demote or dismiss their opponents' employees. At the end of the game, each player multiplies the total clout of their employees by the rung of the corporate ladder they have reached to see who wins the game.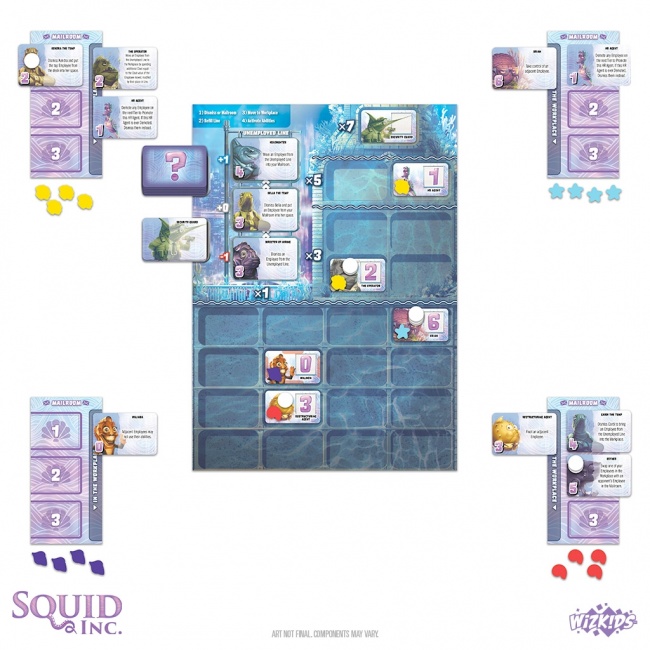 Squid Inc.
was created by Ivan Turner (
ApocalypZe Card Game
) and features illustrations by Matijos Gebresalassie (
Dinosaur Tea Party
,
Chronicles of Crime
). The game includes 80 custom-shaped player pieces, 70 clout tokens, 48 employee tiles, 42 employee cards, 4 mailrooms, and 1 workplace board. It is intended for 2 to 4 players, ages 14 and up, and takes a little more than an hour to play. MSRP is #34.99.
Click Gallery below to see some of the components from the game.
In February, WizKids will launch Star Trek Missions (see "WizKids Boldly Goes on 'Star Trek Missions'"). The company also recently revealed plans to release new unpainted miniatures for its new Magic: The Gathering and Dungeons & Dragons miniature lines in December (see "WizKids Unleashes New 'Magic: The Gathering' Unpainted Miniatures" and "Monstrous Creatures Invade 'Nolzur's Marvelous Miniatures'").