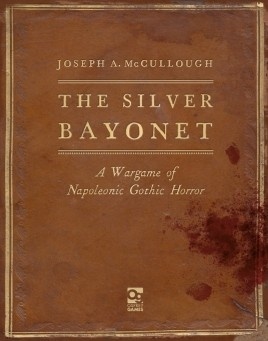 Osprey Games will release
The Silver Bayonet
, a Napoleonic gothic horror skirmish game, which will hit stores on November 11, 2021.
The Napoleonic Wars have ravaged Europe, and the supernatural creatures who hide in the shadows feel emboldened to emerge from the darkness. Vampires, werewolves, and ghouls are taking liberties while the continent is at war by attacking isolated farms, villages, and even military units. In The Silver Bayonet, each player controls an elite band of monster hunters consisting of riflemen, swordsmen, and engineers fighting side-by-side with mystics, occultists, and some supernatural creatures. This game can be played in a solo mode, as a cooperative game, or competitively.
This 160-page hardcover rulebook will retail for $35.00.
Osprey Games will also release Heirs to Heresy: The Fall of the Knights Templar RPG into retail stores on November 10 (see "Knights Templar").