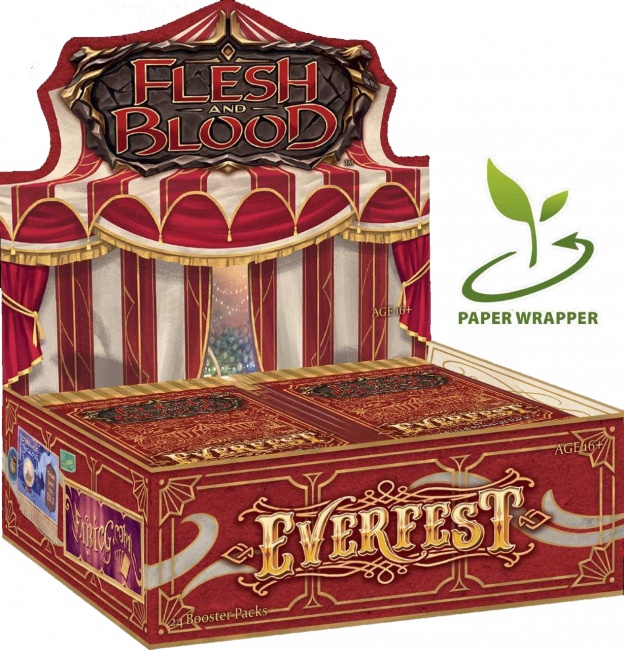 Legend Story Studios announced
Everfest
, the next
Flesh and Blood
set, which will release on February 4, 2022.
The theme of this next FaB set is the Everfest carnival, a place featuring merchants and show-stopping performers. This booster set will supplement the existing heroes' decks with new cards, thus freshening up the Fab classic constructed metagame (see "U.S. Championship"). Packs will have a carnival card slot in each pack that contains various trinket cards such as talismans, amulets, and potions.
One of Everfest's set theme will revolve around environmental sustainability. To drive the point home, this set will be packed in fully recyclable paper booster wrappers.
"Starting with Everfest first edition, Flesh and Blood booster packs manufactured at Cartamundi Belgium will use paper wrappers whenever possible," said James White, CEO of Legend Story Studios. "And we are aiming for all Flesh and Blood boosters to eventually use paper flowwraps."
The Everfest set has 198 cards, and comes in 10-card booster packs. Boosters are packed in 24-count displays and there will be four displays per case. The set's rarity breakdown is as follows: 1 Fabled card, 3 Legendary cards, 45 Majestic cards, 61 Rares, and 88 Commons. Packs come with a Premium Foil, 2 rare or higher cards, and 7 commons.
The Tales of Aria Booster Box (1st Edition) from the Flesh and Blood TCG was the most actively bought and sold sealed TCG product in September 2021 (see "TCGplayer Top 25").