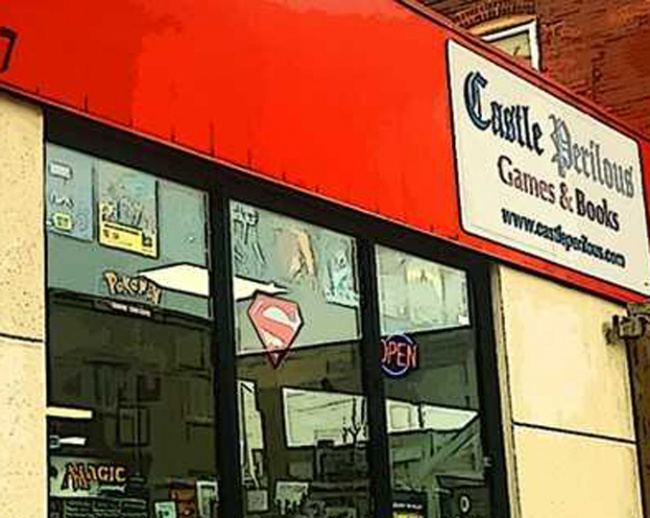 Rolling for Initiative is a weekly column by Scott Thorne, PhD, owner of Castle Perilous Games & Books in Carbondale, Illinois and instructor in marketing at Southeast Missouri State University. This week, Thorne offers a few suggestions to publishers to make it easier for his store to sell their products.
I really want to sell your game or your comic, and there are few things publishers can do to make it easier to do so. Here are four quick tips for to help me sell your product better:
Packing Slips
. When you ship an order, make sure you include a packing list or even better an invoice. Yes, I know we can receive invoices and lists via email with the click of a mouse, but when we check in orders, we do not always have the computer set up next to the work area. Having a paper copy included with the shipment makes it ever so much easier to check the shipment and make sure that we received everything that we should.
Packing slips 2
. Put the prices (and costs) on said packing slip/invoice. We have a few publishers that send the packing list, but do not include pricing. This means that we must go to the computer, again, and either look up the emailed invoice or go to the publisher's website and check the pricing there. Anything the shipper can do to speed up the process by which we receive your products helps us get them out on the shelf more quickly and in front of the customer's eyes.
Titles
. Design your title in such a way that the customer can easily read it. Avoid highly decorative fonts as you have only a few seconds to catch the customer's eye. Use text that is large, unutilized and simple to read and put it on the cover as well as every edge of the box. Customers will pick up your product and, quite often, do not put it down on the same face as when they picked it up.
If you are a comic publisher, look at how stores rack your books. A large number of stores use waterfall racking to display them, which can cover up the lower section of the cover. If you place your title on the lower section, it is quite likely to get covered up. Also, if you offer an open to order non-ratio variant cover, make sure the name of your book appears on the front cover somewhere; unless in the solicitation you show the cover so that stores know what they are ordering. Also, make sure the customer can find the issue number easily. A publisher recently decided to incorporate the issue number into the book's title, and it took me about three minutes to find it.
FOC
. This is addressed toward comic publishers, but for pity's sake, use the final order cutoff the way it was supposed to be used. It was supposed to help us set our comic orders based on sales of the previous issue. Since most books have about a month's lead time, putting a book on the final order cutoff list would give stores about five days' worth of sales to estimate how well the previous issue sold and allow us to cut or increase orders before publishers sent the books to press. Yet we have publishers soliciting a second issue before the first hits the shelves. There is no way for stores to make realistic order numbers with that long of a lead time, so we cut. I would rather sell out of a book than have unsold copies on the shelf.
Any other ideas on how to help use sell your games or comics? Send them to castleperilousgames@gmail.com.
The opinions expressed in this column are solely those of the writer, and do not necessarily reflect the views of the editorial staff of ICv2.com.