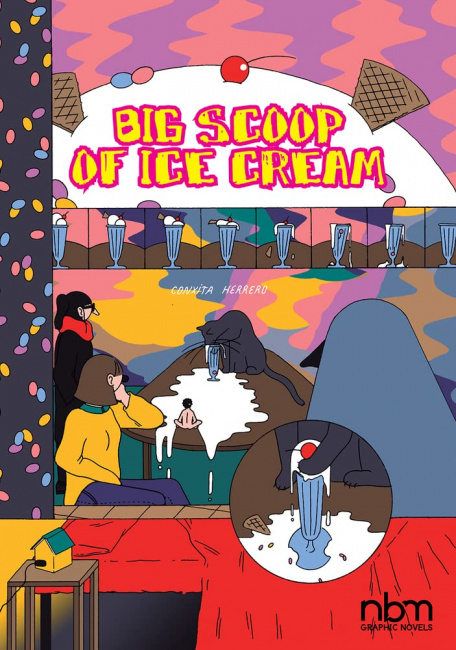 Big Scoop of Ice Cream TP
Publisher: NBM
Release Date: July 2022
Price: $17.99
Creator: Conxita Herrero Delfa
Format: 140 pgs., Full-Color, 6-1/2" x 9-1/2", Trade Paperback
ISBN: 978-1-68111-2294-6
Age Rating: N/A
ICv2 Rating: 3 Stars out of 5
The conceit of this collection is that the tales in it manage to contribute to the tale of a life. Whether that life is real or imaginary is of very little importance. Whether that life is that of the artist is also of very little importance. What is important is that the artist has somehow talked NBM to publish an English translation of the original work, with the support of the Accion Cultural Espanola organization.
The result is a work that is both visually startling and remarkably peculiar. No explanation is offered for some of the stylistic oddity, such as the peculiar nose and face art that exists throughout the book. Little snippets of life are portrayed in cartoon form, but many feel as if the reader has missed the notes, sort of like reading a Lynda Barry story with the wrong text. Some are brief and interesting, even if a bit like a moment from a Seinfeld episode. Some are just baffling.
At the same time, there is something about the pieces that draws the eye, as if to keep looking for that something that a first glance has missed, and sometimes it's there. The title story and "The Reject" are both like that, worth the quick read. Another, whose text seems to be "People are only human, and what good luck to have met them" is the kind of thing that causes the reader to stop and think for a moment.
That said, the artwork is so quirky that some readers will be turned off by it. Even readers who find the art interesting may not fall in love with the stories. Still, it's an intriguing look at an artist who has strange and unusual ideas about graphic story. Brief nudity and sex, along with content, suggest that it's aimed at adult readers.
--
Nick Smith: Library Technician, Community Services, for the Pasadena Public Library in California.