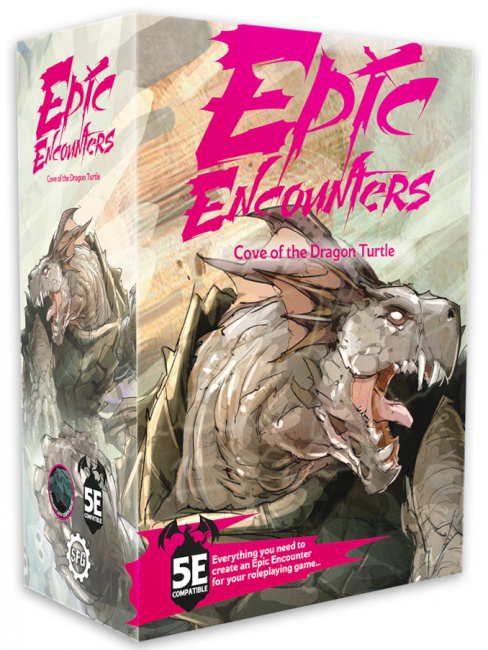 Sponsored
. The next adventure for
Epic Encounters
is on the way! Steamforged Games is excited to share the next session for role-playing game night with
Cove of the Dragon Turtle
. It has been fun to preview this fantastic and fearsome aquatic monster over the last few months and soon they will be on the table.
Epic Encounters
continues to be the successful RPG product which brings everything a Dungeon Master needs for a thrilling adventure. Each box includes miniatures, maps, tokens and role-playing guidebooks. For experienced Dungeon Masters, a short read and this can slide into any exciting campaign or be a great kick off. For those who are "DM Curious" or just starting as a Dungeon Master it provides a great jumping off point for a compelling game night. In this next set, we are introducing an aquatic encounter with the
Island of the Crab Archon
and
Cove of the Dragon Turtle
.
Each set of
Epic Encounters
has brought something new and fun to the table, from terrifying Frost Giants, fearsome Dragons and gruesome Corpse Crawlers. Being able to bring a creature a bit deeper from the monster manual is exciting for us and we couldn't be happier with how this adventure and miniature came to life!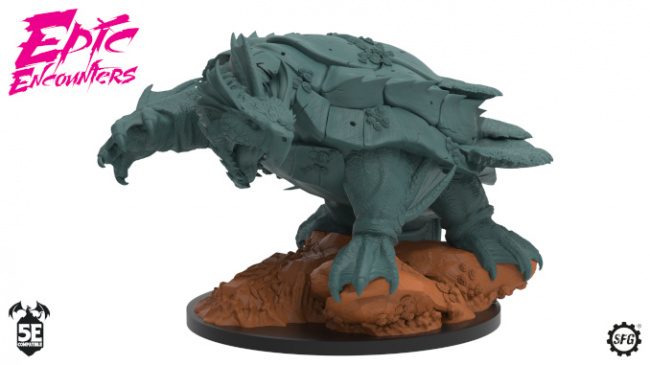 The
Cove of the Dragon Turtle
includes a highly detailed dragon turtle miniature with a 110mm base and in true Steamforged Games fashion is ready to go right out of the box and into the next campaign session. This set also comes with an adventure book which shares a way to introduce this encounter into any fifth edition or fantasy roleplaying game.
Will your players defeat the dreaded dragon turtle, or will you end up sleeping with the fishes?
For the latest information about
Epic Encounters
and to Pre-Order the
Cove of the Dragon Turtle
, check out the Steamforged Games'
website
.
Steamforged Games is also launching our next Kickstarter on June 28th, which features
Epic Encounters: Local Legends.
Find out more about this next product for
Epic Encounters
here
.
From the Epic Encounters: Cove of the Dragon Turtle description:
Whispers travel across the seas of a titanic beast that dwells in the depths. A snapping, snarling chaos that surges from beneath the waves to snatch its prey. Some speak of these monstrous predators singing to one another with haunting, wordless ululations crooned over silent seas. Others of slow death; victims kept alive to be consumed limb by limb. Sailors give it many names — old grim teeth, the living island. No matter the name, or the language it's spoken in, all sailors fear the dragon turtle.
Many feared creatures lurk in the dark places beneath the waves… But none are as feared as the dragon turtle. These colossal sea-dwelling beasts have the shape of a turtle, but ten times the size, and the mind of a dragon, wise and treasure-hungry. This may well be your sternest test yet.
Inside this boss box is everything you need to challenge a dragon turtle, including a large, highly detailed dragon turtle miniature (110mm base!) and an adventure book woven with information to fuel your imagination. It's up to you to discover which rumors and whispers are true!
Contains:
1 huge, highly detailed dragon turtle miniature (110mm base, unpainted)
Double-sided game mat
Adventure book
Monster stats
Tips and tricks for building tension and excitement
Make your next role-playing session one to remember. With just one box, you can run a terrifying boss encounter your players will be talking about for weeks! Match your brave adventurers up against a gargantuan draconid turtle. Use Cove of the Dragon Turtle as a standalone encounter or as part of a new or existing RPG campaign. Pair this boss with the compatible warband set, Island of the Crab Archon, for a truly epic tale of the high seas!