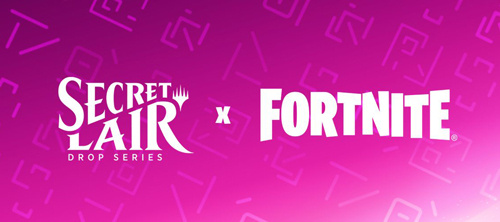 Wizards of the Coast revealed the contents of the two
Secret Lair x FORTNITE
sets, drop sets for
Magic: The Gathering
, which will launch onto preorder on July 21, 2022.
The first Secret Lair x FORTNITE set comes in both non-foil and foil. Each version contains 7 Magic cards reskinned to match FORTNITE's brand. The seven cards are as follows: 1 Wrath of God as "Shrinking Storm," 1 Dance of Many as "Dance Battle," 1 Etherium Sculptor as "Supply Llama," 1 Grim Tutor as "Crack the Vault," 1 Triumph of the Hordes as "Battle Royale," 1 Smuggler's Copter as "Battle Bus," and 1 Planar Bridge as "The Cube."
The other set, Secret Lair x FORTNITE: Landmarks and Locations, showcases some of FORTNITE's more well-known locations as full-art basic lands. This set comes with five cards, one of each basic land type, and is also available in foil and non-foil.
Each of these sets will retail for $29.99 in non-foil and $39.99 in foil.
For more information on future releases of Magic products, check out ICv2's 2022 calendar (see "'Magic: The Gathering' Release Calendar For 2022/2023").
Click on Gallery below for full-size images!