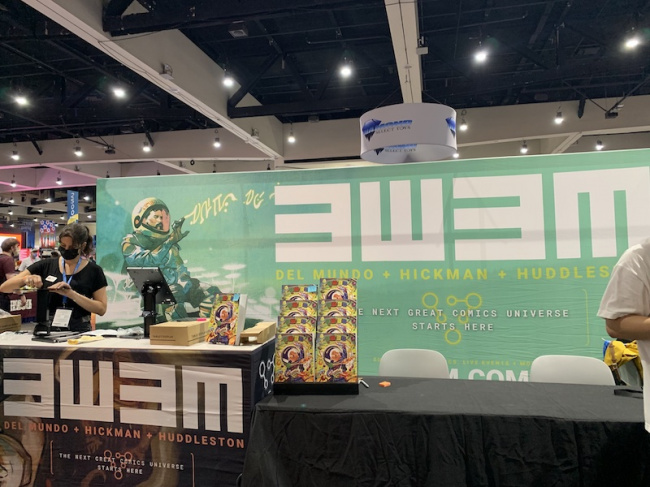 Jonathan Hickman and his collaborators are talking to a range of publishers, from those focusing on the direct market to book houses, about a print edition of their comic
Three Worlds/Three Moons,
Hickman told ICv2 at Comic-Con. "We have it in front of a bunch of different publishers right now," Hickman said. "They're making their offers, and we'll take the one that we feel serves the story the best and the product the best."
Hickman is collaborating with artists Mike del Mundo and Mike Huddleston, editor Steve Wacker, and a host of other comics professionals to create the project, which launched on Substack in August 2021 (see "Substack"). "It's a concept universe," he told ICv2 at SDCC. "Basically, the overarching structure of it is that the universe is in ever‑repeating, waxing and waning cycles of magic and science. We pick up at the tail end of one of those for dramatic reasons."
The digital version of Three Worlds/Three Moons had just under 10,000 regular subscribers, Hickman posted in late May, of whom about 2,300 were paying (see "Substack and the Comics Creative Lifecycle").
Hickman says the print edition will be published as original graphic novels, with three or four releases planned for next year. "Right now, we're doing bigger stories," he said. "The format that we're working in is a little bit wider. It's 8.5" by 11". We need the books to be bigger, so we decided to do trades."