Mad Cave Studios, Tokyopop, and Welsh charity Re-Live are all using comics for philanthropic purposes in current projects, and we round up the news here.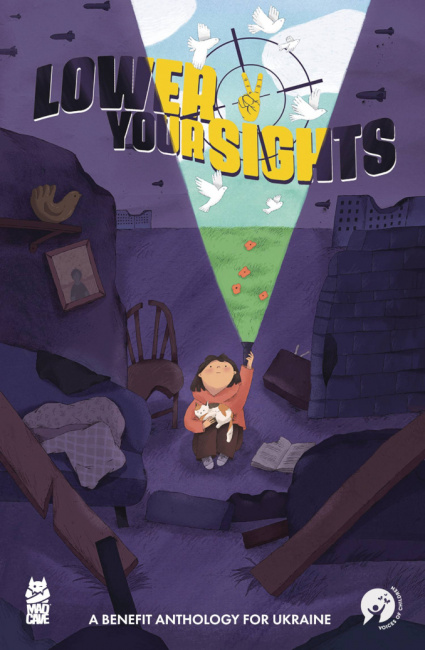 Mad Cave Studios is collaborating with Voices of Children Foundation to publish
Lower Your Sights
, a graphic novel anthology to raise awareness and funds for children impacted by the war in Ukraine. Funds raised through the project will go to the Voices of Children Foundation to provide psychological, psychosocial, and evacuation assistance to Ukrainian children.
Mad Cave and Voices with Children put out a call for contributions in April, and the following creators agreed to participate:
Writers: Matt Kindt, Jim Zub, Rich Douek, Andy Eschenbach, Beck Kubrick, Bob Frantz & Kevin Cuffe, Brian Hawkins, Charlotte Balogh, Ellie Egleton, Ennun Ana Iurov, Eric Palicki, Gabe Valentin, Jarred Luján, Joe Corallo, Jonathan Hedrick, Justin Richards, Lela Gwenn, Matt Harding, Matthew Clark, Matthew Dow Smith, Sem Chyhlintsev, Shane Patrick White, Shane Roeschlein, Tim Daniel & DB Andry
Artists: Richard Pace, Justin Greenwood, Dave Chisholm, Matt & Sharlene Kindt, Liana Kangas, John K Snyder III, Alejandro Rosado, Alex Moore, Andi Santagata, Andriy Lukin, Anna Papadopoulou, Beck Kubrick, Bryan SilverBax, Chas! Pangburn, Dani Weires, Ellie Wright, Ennun Ana Iurov, Francine Delgado, Frank Cvetkovic, Gab Contreras, Gabo Elías, Ignacio Di Meglio, Irlander Romero, Joe Hunter, Josh Jensen, Justin Birch, Kateryna Kosheleva, Kote Carvajal, LetterSquids, Lucas Gattoni, Marissa Louise, Matt Harding, Matthew Clark, Matt Krotzer, Micah Myers, Nicky Noons, Patrick Brosseau, Richard Pace, Ryan Odagawa, Sean Dicker, Sean Von Gorman, Sofiia Lyt, Shane Patrick White, Sierra Barnes, Stelladia, Taylor Esposito, Tim Daniel
Ukrainian Creators: Yev Haidamaka, Inna Vjuzhanina, Tanya Vovk, Anastacia, Andriy Lukin, Andy Ivanov, Art Studio Agrafka, Romana Romanyshyn and Andriy Lesiv, Gexis, Iryna Babenko, Iryna Potapenko, Kateryna Kosheleva, Mari Kinovych, Marta Koshulinska, Mikhail Dunakovskiy, Nina Dzyvulska, Olena Dziura, Polina Khrystoieva, Sem Chyhlintsev, Sofiia Lyt, Yana Strunina
Covers: J. G. Jones, Ryan Sook, Yev Haidamaka
The 152-page collection will be comic trim size and retail for $17.99. The stories and pin-ups show how combat affects soldiers, family members, friends, students, doctors, politicians, and allies. "Watching the industry come together to tell these powerful and poignant tales is a great reminder that the pen really is mightier than the sword," Mad Cave Studios Editor Chas! Pangburn said of the project.
Release is planned for September 14, 2022.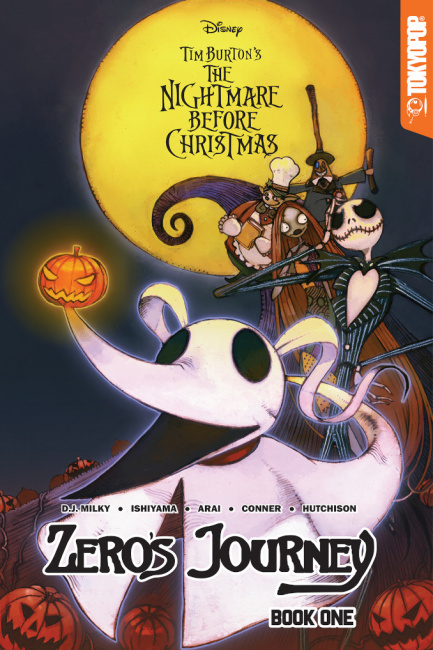 Tokyopop is contributing books to Jet Blue's Soar with Reading Initiative, which provides free books to children to address the issue of "book deserts," areas with limited access to age-appropriate books. This year, the program is operating in Newark, NJ, where it has been operating digital vending machines that allow kids to select up to six free titles, in English or Spanish, which are delivered to the host location a few weeks later. Tokyopop has three titles in the program:
The Nightmare Before Christmas
(softcover edition),
The Nightmare Before Christmas - Zero's Journey
, Book 1, and
Kamo: Pact with the Spirit World
, Volume 1.
Tokyopop Marketing Associate Kae Winters explained the company's participation. "Making sure kids from all walks of life have the opportunity to fall in love with books is so important," she said.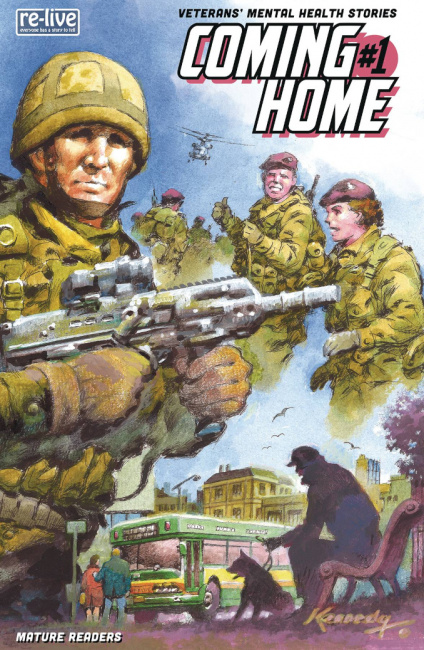 Welsh Arts in Health charity Re-Live will publish
Coming Home
, an anthology comic series with true stories of UK military veterans' mental health. The stories come from a group of veterans living with complex mental health issues, including PTSD and depression, who developed their own narratives and then worked with a cartoonist to craft the story.
The cover of the first issue was the last work by legendary British artist Ian Kennedy. Interior art is by Keith Page, Mike Donaldson, Emma Viecheli, Casey Raymond, and Clark Bint. "It's a testament to the power and emotion of our veterans' mental health stories that we were able to attract such a stellar list of artists to help bring them to life," editor and film-maker Steve Sullivan said of the roster.
The first issue will be released in November at $7.99 MSRP.
Click on Gallery below for full-sized images.