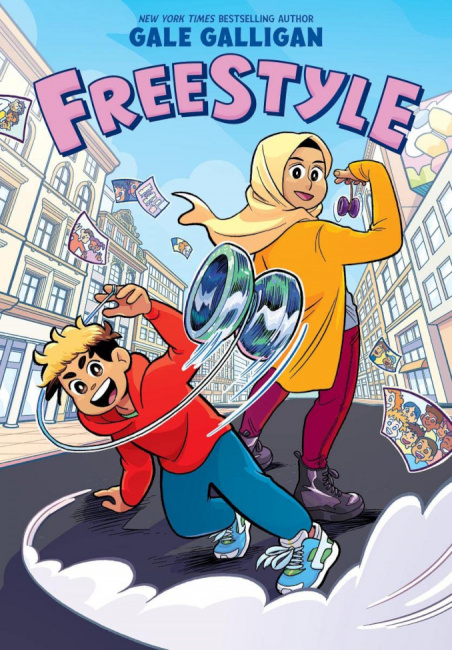 Freestyle GN
Publisher: Scholastic/Graphix
Release Date: October 18, 2022
Price: $12.99 (TP) / $24.99 (HC)
Creator(s): Gale Galligan (Writer & Artist), K Czap (Colorist)
Format: 272 pgs., Full-color, 5.8"x8.1", Trade Paperback/Hardcover
ISBN: 978-1-3380-4580-2 (TP) / 978-1-3380-4581-9 (HC)
Age Rating: 9-12 years old
ICv2 Rating: 4.5 Stars out of 5
For those of you only familiar with this artist's work from their work on
The Babysitters Club
graphic adaptations after Raina Telgemeier, this book shows what they can do with their own creations. Oddly, it mixes break dancing and yo-yo, both at a competitive level. That's not a combination you often hear about, but it works. In this story, a bunch of middle school kids and their families are portrayed in an interesting way. They're a diverse bunch, living in New York, although the format of the graphic novel doesn't go into great depth about either of those things.
The two stories are united by Cory, part of a group of dancers who are in their final year of middle school. They're afraid that going to different high schools will break up their dancing and their friendship, and their dance team captain has other stresses in addition. Due to a slip in his grades, his parents bring in a tutor, a girl from his school who does much better at academics, but who has her own pressures, and relieves them with her love of fancy yo-yo tricks. She's very good, but not outgoing enough to show off her skills.
As the two stories progress, they involve a lot of life lessons and a lot of information about both break dance crews and competitive yo-yo. Both are more exciting than that probably sounds, especially as portrayed here. Gale Galligan has managed to capture the excitement of doing something that is both the way you want to have fun and the way you find the thing you want to excel at doing. Having fun with friends, learning what you're good at, learning things from friends… those are some of the parts of this story. It will also cause a lot of online searches for yo-yo competition videos, and they do exist.
--
Nick Smith: Library Technician, Community Services, for the Pasadena Public Library in California.